When he heard on television that gravity couldn't be used as a form of energy, Bob Kostoff set out to prove Discovery Channel wrong.
"I said, 'That doesn't make any sense,'" said the Little Britain resident, using dropping a cement brick from a standing height as an example.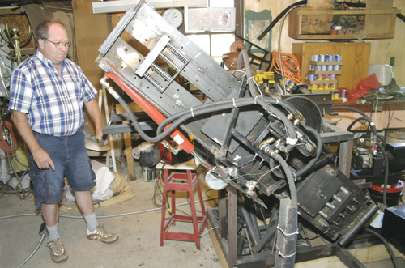 If you were to place your hands a few centimeters off of the ground to try to stop it before it hits the ground, you wouldn't be able to because of the energy powering the bricks fall, he said last Friday.
With that concept in mind, Kostoff sought to make a 'perpetual motion machine' that could offer a clean, alternative source of power using gravity as 'fuel.'
After about four years of planning and development through trial and error – including about a year-and-a-half creating the designs on paper - Kostoff reached his goal.
The result was 'The Gravity Powered Machine.' The self-sustaining engine provides as little as 10 foot-pounds of torque or as much as hundreds, Kostoff said, adding how its cost is less than half of a small wind turbine.
The machine – which only requires a little bit of start-up juice before it creates enough power to sustain itself - works much like a teeter-totter, using a series of sliding weights that, with the help of the earths gravitational pull, force the unit to continue spinning around in a circle.
Install a series of magnets in the unit and tens of thousands of watts of electricity can be produced, an amount that depends on the size of the actual machine.
"You can get off the hydro grid with one of these," Kostoff told The Lindsay Post.
So far, about five of the units have been made. Once he got the concept down, he said he began fine-tuning the more cosmetic aspects of the machine, such as reducing noise.
"Once you figure it out, it's just about perfecting it," he said.
A former employee of Matthews Conveyor who also ran his own computer stores in Lindsay and Port Perry, Kostoff hopes his new invention will eliminate the need for fossil fuels.
The machines can be used in a variety of applications, Kostoff said, because they produce electricity at no cost.
For example, he said the units can be used to generate the power needed for electrolysis, a process that creates hydrogen, a "free fuel" that could be used to power your personal vehicle.