Manz Automation AG (Reutlingen, Germany) and Synova SA has unveiled the ILE 2400, an inline laser edge isolation system for photovoltaic (PV) manufacturing of mono- and multi-crystalline solar cells. Integrated with Synova's proprietary water jet-guided laser technology -- Laser MicroJet -- the enables manufacturers to effectively isolate the edge of PV cells to prevent short circuits.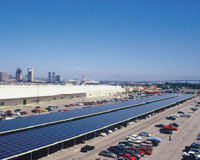 This inline, fully automated system is set to address the industry's need for manufacturing tools aimed at improving solar cell efficiency and, ultimately, cell yield. This week, for the first time, the ILE 2400 is on display at the 22nd European Photovoltaic Solar Energy Conference (EU PVSEC) in Milan. The ILE 2400 will be production ready in Q4 2007, and Manz will be accepting orders for the system beginning December this year.
The ILE 2400 provides a new and alternative approach, primarily for solar cell edge isolation, with secondary applications including cutting and drilling. Edge isolation, a technique used to prevent parasitic shunts between the front- and back-sides of the cell, prevents short circuits to improve cell efficiency. Current technology approaches for the application include: plasma etching, conventional lasers and diamond saw blades.
Each process, however, yields a set of limitations such as heat and silicon surface damage, as well as contamination caused by processing debris -- all of which reduce cell integrity. Utilizing the Laser MicroJet approach, these factors are negligible given its gentle, cooling and self-cleaning capabilities.
"Our active collaboration with Synova has led to a successful integration of its Laser MicroJet into our solar manufacturing platform, and we're realizing the combined system's increasing competitive technology benefits in terms of precision, throughput and yield," said Manz's chairman of the board, Dieter Manz. "These benefits the ILE 2400 affords positively impact cell efficiency and overall manufacturing costs, and as demand for cost-effective equipment continues to heighten, we're well-equipped to address our customers' needs."
Synova Chief Executive Officer, Bernold Richerzhagen, noted, "We're excited to be working closely with Manz, and to be a part of enabling this emerging market with the introduction and development of this Laser MicroJet-integrated system. This licensing partnership -- the first since our business model shift -- is evidence of the versatility of Laser MicroJet's abilities to enable improved manufacturing results across various industries."
Richerzhagen added, "We look forward to continued collaboration with Manz to explore Laser MicroJet's application possibilities beyond edge isolation to discover new applications that will fully utilize our technology in the PV market."
The development of the ILE 2400 follows on the heels of the Synova-Manz technology licensing partnership announced earlier this year. The partnership is solely dedicated to developing cost-effective manufacturing equipment for mono- and multi-crystalline solar cells that enables improved cell efficiency. Under the terms of the agreement, Synova will spearhead all R and D efforts, while Manz will drive the manufacturing, sales and service operations on a worldwide and PV-exclusive basis. This licensing partnership is one of several Synova is establishing following a business model expansion beyond direct manufacturing and selling.