Paul Norris has the kind of power bill we all dream of - his electricity supplier sends him a cheque.

He generates so much electricity from the solar photovoltaic (PV) panels on the roof of his three-bedroom house in Tunbridge Wells, Kent, that he not only satisfies his own needs but also exports excess supplies to the National Grid.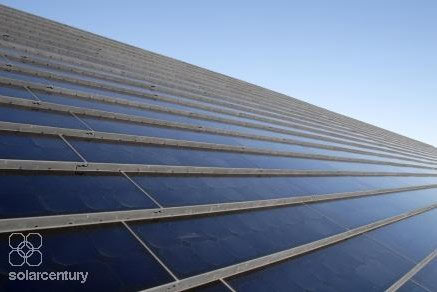 "The main reason I had it installed was because I was worried about climate change, but it's great to actually make some money out of it," he says.
"Most people imagine it only really works during a sunny summer's day, but it even produces a decent amount of power on a cloudy day in the middle of winter."
Since Chelsfield Solar (www.chelsfieldsolar.co.uk) installed the system in April last year, he has been able to wave goodbye to his £300 annual power bill and now receives a cheque for £200 from his electricity company, Scottish and Southern Energy (www.scottish-southern.co.uk).
Unfortunately, choosing the supplier that offers the best PV deal is a laborious process. Given the Government's commitment to expanding renewable energy, you might have imagined that a comparison website laying out the various tariffs would be available, but sadly not. However, after 'phoning around, Paul concluded that Scottish offered the best deal.
Paul could also make more than £130 per annum, if he was prepared to endure the Government's convoluted support system. This involves Renewable Obligations Certificates (ROCs), which are accrued by those generating renewable energy and are purchased by suppliers so they can meet their eco-obligations.
Although the value of a ROC is set by the market, it is typically around £45 and a large PV system like Paul's can amass three a year, which should sweeten the move to renewable energy considerably.
Alas the process, which was originally designed for large-scale enterprises, is so bureaucratic it is likely to deter the average homeowner.
"I intended to register but I haven't been able to face the red tape," he says.
Even without the ROCs, Paul has estimated that his PV system - which cost him £8,500, because he received a 50 per cent grant from the Government - will pay for itself within 14 years. However, the grant has now been capped at £2,500.
Despite some of the irritations involved in this system, Paul is delighted with his investment and has set up a website (www.alternative-energy.co.uk) to make it easier for others to follow suit.
If they do, it could play an important role in the UK achieving its commitment to cut carbon dioxide emissions by 26-32 per cent by 2020.
So far, around 4,000 homeowners have installed PV in the UK, but the figure is dwarfed by the take-up in Germany, where a guaranteed energy price using a feed-in tariff has led to around 800,000 properties having the technology installed leading to calls by Friends of the Earth and the Renewable Energy Association for a change in the UK's support scheme.
Despite the inadequacies of the system, solar power is increasingly popular in the UK, partially due to programme's such as ITV's Three Degrees from Disaster, which featured David Merrill as he installed PV last year.

Although it has delivered an immediate £400 cut in his annual electricity bill, he is as concerned about the long-term impact on his four children.
"They think having PV and a wind turbine is really cool," he says.
"It's sown the seed and I think they will take the issue of climate change even more seriously as they got older."
As well as getting a warm glow from the thought that he has cut his carbon dioxide emissions by almost two tonnes per year, David also appears to have made a shrewd investment.
The value of his three-bed home in Glastonbury, Somerset, has increased by 6 per cent as a result of having the PV system installed by Solar Century (www.solarcentury.co.uk).
Martyn Williams has already made more than a paper profit after installing PV on the roof of his Victorian home in Hackney, east London, through PV Systems (www.pvsystems.com).
"I sold it for the full asking price within three days of putting it on the market in 2004, partially because it stood out from the crowd and newspapers wanted to feature it as their property of the week. When we moved in four years before we needed to fit a new roof anyway, so it didn't add that much to the cost."
Solar power is also becoming decidedly trendy, with Hollywood stars Cate Blanchett, Robert Redford, Leonardo DeCaprio, Brad Pitt and Orlando Bloom seeing the light.
But they all follow in the footsteps of the UK's environmental pioneer, Sue Roaf. She installed the first PV roof in Britain in 1995 after designing her six-bed eco home near Oxford to minimise energy consumption (and has written a book on the subject called Ecohouse 3).
"When I had PV installed I had big problems with the utility companies, who just didn't want to know. But I forced a change in the protocols to make it possible."
She was driven to act by her experience of living in Iran and Iraq for 10 years carrying out archaeological digs.
"It didn't seem fair that the lives of the nomads in the area were being destroyed by the impact of global warming when they were not causing the problem.
"I realised that even a small increase in temperatures could have a huge impact, so I decided to cut my own emissions when I came back to the UK."
As a result she doesn't feel that sense of apprehension when her electricity bill drops through her door. "I've just had my bill for the quarter and it was just £14.75."
Sue reckons she saves about £500 per year because of the system, which is far more than when she installed PV in 1995, partially because of the inexorable rise of electricity prices but also, ironically, because of global warming. "It's producing almost 10pc more power now than a decade ago."
And with the recent flooding highlighting the potential threat to electricity supplies caused by erratic weather, having your own supply could be a Godsend. "If I was cut off from the grid I would be perfectly comfortable in my home and could survive on the power I produce.