The plug-in hybrid bug is spreading across the automotive landscape. Volvo is the latest to hop on the bandwagon with its new ReCharge concept car.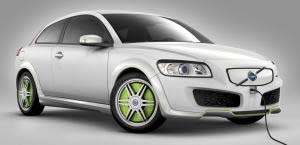 The ReCharge is basically a Volvo C30 hatchback that has been outfitted with electric hub motors in each of the vehicles four wheels and a battery pack in under the cargo floor. Volvo says that the Recharge can be driven 62 miles before the internal combustion engine (ICE) has to take over.
The battery can be fully charged from a household outlet within three hours according to Volvo. A quick one hour charge is good enough for an all-electric range of 31 miles. If a driver doesn't have access to an outlet, the batteries can be recharged by the 1.6 liter Flexifuel four-cylinder engine.
"This is a ground-breaking innovation for sustainable transportation," said Magnus Jonsson, Volvo Cars' Senior Vice President Research and Development. "A person driving less than 100 kilometres a day will rarely need to visit a filling station. In the USA, this may apply to almost 80 percent of drivers."
The ReCharge is said to have 80 percent lower operating costs than comparable ICE vehicles due to its ability to rely less on gasoline. In addition, the vehicle emits 66 percent less CO2 emissions compared to other hybrid vehicles currently on the market.
Although the ReCharge is just a concept, the technology could be applied to a wide variety of Ford Motor Company products. The C30/ReCharge is built on Ford's global "C1" chassis. That means that the Euro Ford Focus, Mazda3, Mazda5, Volvo S40, Volvo V40 and Volvo C70 would be prime candidates for the plug-in hybrid system.