Whistler will become home to the world's largest fleet of hydrogen fuel-cell buses by the 2010 Olympic Games in a five-year, $89-million project announced Friday by the B.C. government.
Leaving only water in their wake, 20 otherwise emission-free buses will make up the bulk of the Whistler bus system in a project that will provide a northern terminus for a "hydrogen highway" up the west coast of North America.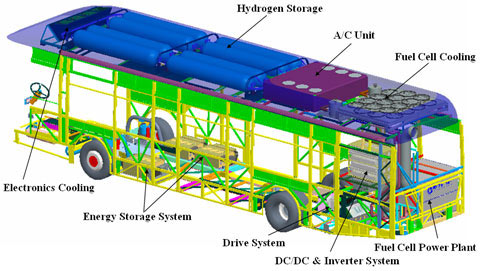 The buses will have fuel cells provided by Burnaby's Ballard Power Systems.
"Other groups of fuel cell buses come in twos and threes," said Transportation Minister Kevin Falcon.
"When we welcome the world, the world will see an entire fleet that showcases B.C. companies and B.C. talents and an emerging technology that can help us deal with greenhouse gas emissions," he said.
The buses - each with 37 seats, a 60-person standing capacity, and a top speed of 90 kilometres per hour - are twice as efficient as internal combustion engines and produce no smog-creating emissions, said Falcon.
Each bus will cost $2.1 million, about four times the price of a diesel bus, said Ron Harmer, vice-president of technical services for B.C. Transit. Trolley buses cost about $1.4 million.
The first bus will arrive in Victoria for 30 days of on-road testing in July 2008, and the remaining 19 will be delivered by December 2009.
Whistler residents welcome the project but are wary of the costs when funding runs out in 2014, said Whistler Coun. Ralph Forsyth.
Eight hydrogen tanks will hold about 60 kilograms of hydrogen, good for 500 kilometres of travel. But with current hydrogen prices between $10 and $20 per kilogram, a day's fill-up could be as much as $1,200.
"I'm optimistic that we won't be left holding the bag on this project," said Forsyth.
New Flyer Industries of Winnipeg will build the buses. The three main subcontractors will be Ballard, which will provide the fuel cell modules, Dynetek Industries of Calgary, which will work on the hydrogen storage system, and ISE Corp. of San Diego, Calif., will provide the hybrid drive system.
Ballard's share of the contract is $14.7 million, the company's largest single order for hydrogen-powered buses, said vice-president Noordin Nanji.
"It's a tremendous showcase for our own technology," Nanji said. "We're particularly pleased that it's happening in British Columbia."
The federal government contributed $45 million to the $89-million project through the Public Capital Trust fund, the provincial ministry covered $10 million, and BC Transit will pick up $34 million in operating costs.
A hydrogen refuelling station contract for Whistler to join other fuelling stations in Victoria, Surrey, and the University of British Columbia is in the works, and will likely be announced in September, said Harmer.
Falcon said he was optimistic that by the time the contract runs out, fuel cells will make business sense.
"Getting the technology over that initial hurdle is the hardest part," said Falcon. "Whether it's widely adopted or not will be something the market will decide."