EMCORE has announced that it has been awarded a follow-on production order from Green and Gold Energy (GGE) for 3 million solar cells for use in GGE's SunCube terrestrial concentrator system. This 105 MW purchase order represents the largest procurement of concentrator solar cells in the industry to date and is a follow-on order to an initial 5 MW order placed earlier this year. All hardware ordered under this contract is to be shipped by the end of 2008.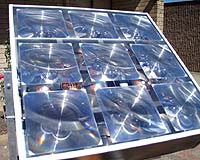 EMCORE will ship its industry leading Concentrator Triple-Junction (CTJ) solar cell products, which have been designed and optimized for Green and Gold Energy's 1100x CPV system. EMCORE has demonstrated record conversion efficiency of 39% under these high concentration conditions and this performance will enable the most cost effective CPV system on the market today. These ultra-high efficiency CPV cells are presently in volume production for multiple customers in a variety of cell sizes.
Based in Glynde, Australia, Green and Gold Energy is a world-leading CPV system provider (www.greenandgoldenergy.com.au). With strong support from Australian government, they plan to deploy solar power farms employing their SunCube low-cost CPV system. GGE is also entering into distribution agreements with several partners, representing a potential for more than 500 MW of annual demand. The SunCube CPV has been designed to produce power at a cost lower than traditional photovoltaic technologies.
Greg Watson, CEO of Green and Gold Energy, stated, "EMCORE's solar cell serves as the key enabling technology in our SunCube CPV system. The patent pending SunCube together with its supporting technologies and the EMCORE cell, are receiving worldwide recognition as the CPV system capable of delivering truly fossil fuel competitive energy."
As a part of the planned high-volume product roadmap, EMCORE's continuing investment in technological innovation will enable the introduction of CPV solar cell products with conversion efficiencies of greater than 40% under highly concentrated illumination operating conditions required for next generation, cost competitive CPV systems.
"We are very pleased to receive this follow-on order from Green and Gold Energy," said David Danzilio, Vice President and General Manager of EMCORE's Photovoltaics Division. "EMCORE's CPV solar cells are optimized for our customers' systems to yield state-of-the-art performance with the lowest cost per kW-hr. This 105 MW production contract confirms EMCORE's position as the leader in concentrator cell technology and high volume manufacturing. EMCORE is committed to continually investing in our concentrator cell technology and further expansion of our manufacturing capacity to meet the growing requirements of present and future customers," added Mr. Danzilio.