Octillion announces that a published research study has demonstrated, among other achievements, that the same silicon nanoparticles used in development of the Company's first-of-its-kind transparent glass window capable of generating electricity, are able to drastically increase the power performance of conventional silicon solar cells.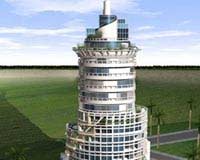 In experiments where silicon nanoparticles were applied on top of solar cells, researchers observed large voltage enhancements with dramatic increases in power ranging from as much as 60-70% in the ultraviolet-blue (UV) range, and further reported a significant boost in power by as much as 10% in the visible light range -- a major accomplishment.
"The exceptional power performance of these silicon nanoparticles is a substantial achievement, and is especially significant since our use of these same nanoparticles is key to the development of Octillion's transparent glass windows capable of generating electricity, an innovation that I believe can potentially reduce the harmful environmental impact associated with traditional electrical power generation," explained Mr. Harmel S. Rayat, President and CEO of Octillion Corp.
Mr. Rayat continues, "Of particular note, the nanoparticle layers used in these experiments not only increased power performance of the conventional solar cell, but importantly, these nanoparticles were able to successfully convert the same UV components that typically cause damage and create wasteful heat into useful electrical energy. This process not only increases power, but it also serves to reduce UV damage to the solar cell, thus helping increase its lifespan.
"Above all, the nanoparticles in these studies were in the same size ranges used for our window technology, and were layered to create a transparent film, similar to the desired transparency we aim to achieve with Octillion's NanoPower Windows."
In key experiments, researchers integrated ultrathin films of silicon nanoparticles of 1nm and 3nm in diameter directly onto conventional polycrystalline solar cells (BP Solarex Si cells), forming a transparent layer of silicon nanoparticles; the same transparent nanoparticles used in Octillion's window technology.
Researchers published their breakthrough findings in the August 6, 2007 edition of the American Institute of Physics' highly respected and refereed Applied Physics Letters, ranked in recent years as the world's most highly cited journal in applied physics, and renowned as the premier source for publication of discoveries in physics phenomena for more than 40 years.