Even in a city known for its environmentally friendly building practices, a storage facility planned for the east bank of the Willamette River will break new ground for sustainability.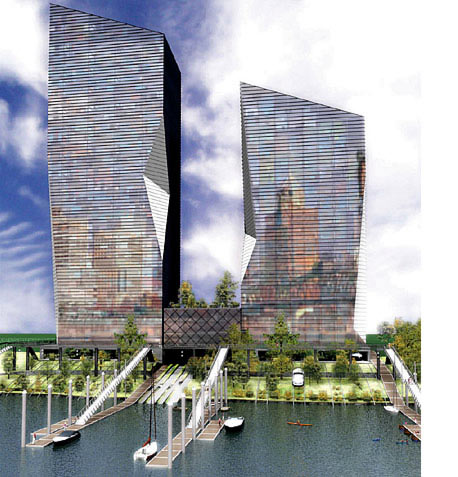 The facility, north of the Ross Island Bridge, is designed to house boats, recreational vehicles and storage pods. But, as envisioned by Derek Hanna, founder of Portland City Storage, it's also designed to meet Leadership in Energy and Environmental Design gold standards for green building.
Toward that end, the facility will include more than 175,000 square feet of solar panels, which will make it the largest solar facility in the Northwest, with the excess power being sold to Portland General Electric.
The building also will have an ecoroof that collects and recycles rainwater, along with walking and bike paths that will help connect Southeast Portland neighborhoods to the river and downtown.
"There are a lot of needs for a storage facility in that part of town, including the people moving into South Waterfront and the Pearl District," said Hanna, the son of local car wash magnate Dan Hanna. "Portland is a leader in sustainable business practices, and I believe that can be applied to such a building, too."
But more than that, the radical design of the facility - a glass tower rising more than 22 stories and enclosing a giant mechanical arm capable of lifting 40,000 pounds - will conserve valuable riverfront land. It will be built on just three acres, compared to the more than 30 acres that would be required for a conventional single-story storage facility of a similar capacity.
Hanna estimates the project will run around $40 million, including land acquisition and cleanup costs.
"This project is a reflection of everything Portland is about - dense downtown development that conserves resources," Hanna said.
Although the facility will be far taller than any other building around it, Sue Pearce, a member of the board of the Hosford-Abernethy Neighborhood Association, said she is excited about it.
"I'm still trying to picture a 200-foot building there, but if Derek can do everything he's talking about, it will be worth it," said Pearce, who notes the association has not taken a formal stand on the project.
Officials at the Portland Office of Sustainability Development also praise the proposal.
"It's a very forward-looking project," said Greg Acker, an architect with the office's green building division who recently reviewed the project at Hanna's request.
In addition, Hanna's company, Portland City Storage, is promising to rehabilitate the riverfront property in front of the tower. The existing concrete wall and former pier will be removed and replaced with a gentle sloping shoreline covered in native plants. An opening cut through the bank will allow boaters to easily slip their vessels in and out of the building, which will look more like a state-of-the-art condominium or office tower than a storage facility.
"This portion of the river has been abused over the years, and we're committed to bringing it back," Hanna said.
Are ferries in the future?
He expects to turn a profit by charging $10 per foot, with a minimum payment of $200 a month. He believes many downtown residents will find the costs reasonable, especially for owners of larger boats, who would otherwise pay docking fees and water-related maintenance costs.
Hanna's also planning to offer space to anyone interested in starting a water taxi service to ferry users between their homes and the facility. He hopes the work will help establish one or more companies that can serve daily commuters and tourists.
The project is now undergoing a 90-day city greenway review to guarantee that any development within 25 feet of the river meets local environmental and public access rules. Hanna hopes to break ground in about six months and compete the project within a year after that.