General Motors Corp. (GM) said Thursday it has an agreement with battery developer A123 Systems to create a battery cell for the auto maker's planned Chevrolet Volt electric car, a move that could help the auto maker win a global hybrid-electric vehicle race that currently is dominated by Toyota Motor Corp. (TM).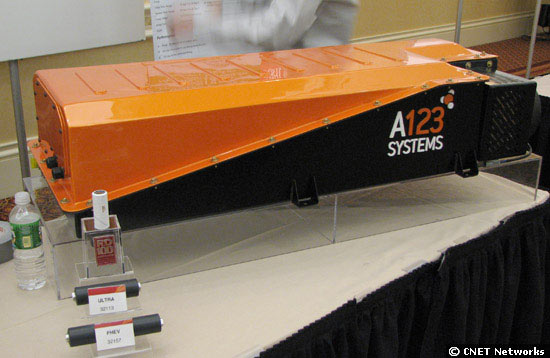 During a speech here, GM Vice Chairman Bob Lutz said A123 will be a key supplier for GM's E-Flex system, which essentially is the propulsion designed to power the Volt and other electric cars the auto maker hopes to make. E-Flex uses an electric motor to drive a vehicle, backed up by a more traditional engine for when battery power is not adequate.
GM already had an existing relationship with A123, but spokesman Rob Peterson said the auto maker is now taking that partnership to the next level by committing to work directly with the supplier on building an affordable, high- power battery.
GM and Toyota are both racing to develop plug-in cars that operate much like a hybrid-electric vehicle, but primarily rely on electricity to propel the vehicle. The technology would allow drivers to recharge the battery from a standard wall outlet and travel long distances on a single charge, but it is far from ready for actual production due to technological limitations and high costs.
Lutz said the goal of the Volt program is to offer an electrically driven car at the same price as a conventional medium-priced car. GM plans to build a plug- in hybrid version of its Saturn Vue that will soon be available in very limited quantities in order to gain momentum on the Volt project.
Taking a leadership position in the race to launch such a vehicle could help GM's drive to lead the fuel-economy debate in the future and shed its gas- guzzling image. GM is spending billions of dollars on creating vehicles that can run on alternative energy sources.
GM's goal is to get a vehicle based on the Volt's technology to market by the end of 2010, Lutz said. The key to making such vehicles viable lies in the development of so-called lithium-ion battery technology, GM insists.
The A123 deal "is a great strategic tie-up for us, and it's going to help us get E-Flex on the road sooner," Lutz said in prepared remarks for a speech he delivered at a conference here.
Lutz's announcement comes as Toyota will delay by as much as two years the launch of new high-mileage hybrids using lithium-ion battery technology, according to a report by The Wall Street Journal.
Lutz said he believes A123 is the right partner to help with lithium-ion technology because its process avoids some thermal issues that could be problematic.
By leveraging A123's technology, GM believes it can open a "window of opportunity" to be first to market with an electric vehicle, Lutz said. He said A123 is a forerunner in a lithium-ion battery technology that "provides higher power output, longer life, and safer operations over the life of the battery."
Lutz said he thinks Toyota had "some problems" with their technology, which also helps create an opportunity for GM to be first to market.
But warned against counting Toyota out, noting that they'll quickly find a new technology. He also pointed out that GM hasn't built the car yet, either.
The challenge for auto makers in developing plug-in hybrids and electrically driven vehicles is developing batteries that deliver enough power, provide adequate range, are safe and affordable
A123 is working on a particular kind of lithium-ion battery, based on "nano phosphate" chemistry that promises longer battery life and other positive attributes, according to a spokesman.
GM also is working with other Continental Automotive and Compact Power Inc., a subsidiary of LG Chem, on the Volt..