Pacific Gas and Electric Co. announced plans to buy enough electricity to power 400,000 homes from a masssive solar park covering up to nine square miles (23 square kilometers) in California's Mojave Desert.
The San Francisco-based utility signed a 25-year contract with Solel Solar Systems, based in Beit Shemesh, Israel, to purchase 553 megawatts of electricity — equivalent to the amount generated by a large coal-fired power plant. Financial terms of the deal were not disclosed.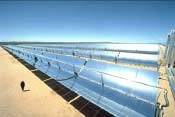 The Mojave Solar Park, estimated to cost $2 billion (€1.46 billion), would dwarf the largest solar plants operating today, which generate less than 100 megawatts of electricity.
Solel, which would build and operate the park, still needs approval from California's Public Utilities Commission, Energy Commission and other state and local agencies. But Solel and PG&E officials said they were confident state regulators would support the project because it would help California reach its clean-energy goals.
"Preliminary research suggests the environmental impact will be minimal," Keely Wachs, a spokesman for PG&E, said Wednesday. The utility supplies electricity to 5.1 million customers in northern and central California.
Company officials hope to begin building the park in 2009 and begin generating carbon-free electricity in 2011. Three sites are being considered for the project, which would cover up to 6,000 acres (2,428 hectares) and use transmission lines formerly used by a now-defunct coal plant near Laughlin, Nevada.
The contract filed with the PUC Wednesday would help PG&E comply with a state law that requires electric utilities to secure at least 20 percent of their electricity supplies from renewable energy sources such as wind and solar by 2010.
The plant would employ solar-thermal technology that would use 1.2 million mirrors to harness the desert sun's power. Rows of trough-like mirrors would heat fluid that generates steam, powering turbines that produce electricity that would be fed into PG&E's electric grid.
Currently, most solar power projects use photovoltaic technology in which electricity is generated onsite from rooftop panels on homes, businesses and public buildings. California is pushing photovoltaics with its "Million Solar Roofs" initiative that offers $3 billion (€2.18 billion) in rebates to install solar panels.
Solar-thermal is less expensive and easier to build at a large-scale than photovoltaic technology, officials said.
"We see solar-thermal as one of the most promising sources of renewable energy," Wachs said.
Solel, one of the world's largest solar-thermal companies, is building similar projects in Israel and southern Spain. Nine plants using Solel technology currently generate 354 megawatts of electricity in the Mojave Desert.
"The sun is shining there at a very high intensity," making it one of the best locations for solar-thermal power, said Solel CEO Avi Brenmiller.
Two years ago, Southern California Edison signed a contract with Phoenix-based Stirling Energy Systems to secure 500 megawatts of electricity from a 4,500-acre (1,821-hectare) solar-thermal project in the California Desert."