The second turbine, which will complete the world's first offshore deepwater wind farm, has sailed away from the Moray Firth base of major UK fabricator and engineering contractor, Isleburn.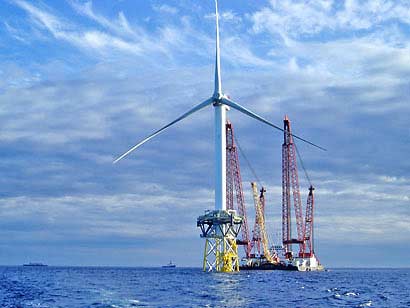 The Beatrice Wind Turbine B was towed 25 kilometres to a position in the Beatrice field, following the completion of a contract worth £1.5 million for Talisman Energy (UK) Limited and Scottish and Southern Energy.
The turbine's sail-away and subsequent positioning completed the installation phase of the Beatrice Wind Farm Demonstrator Project, which aims to examine the feasibility and benefits of creating a deepwater wind farm in the Moray Firth.
Stuart Kydd, Isleburn Project Manager says: "The completion of the construction phase of the Beatrice Wind Farm Demonstrator Project is a milestone in European research into renewable energy and I am extremely proud to have played a part of bringing the project to fruition.
"This project is unique and ground-breaking on several counts - firstly, it is the first time a wind turbine of this size has been fully assembled onshore before being lifted in that state and installed offshore. Secondly, the Beatrice Wind Turbines are each capable of generating 5 MW of power, which is around 1.5 MW more than the current largest offshore turbine."
Isleburn is part of leading Aberdeen and Highland based oil services group Global Resources and was awarded the contract, which took place over two phases, last year. The scope of the contract has included the co-ordination of a number of vendors involved in the turbine construction, which has taken part at Isleburn's Nigg facility, as well as the provision of heavy lift crane services and fabrication, management and safety support.