Air New Zealand and airliner manufacturer Boeing are secretly working with Blenheim-based biofuel developer Aquaflow Bionomic Corporation to create the world's first environmentally friendly aviation fuel, made of wild algae.
If the project pans out the small and relatively new New Zealand company could lead the world in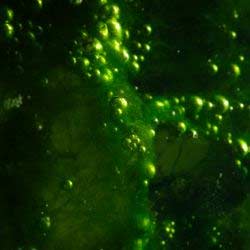 environmentally sustainable aviation fuel.
It's understood Air NZ is undertaking risk analysis. If everything stacks up it will make an aircraft available on the Tasman to test the biofuel.
The fuel is essentially derived from bacterial pond scum created through the photosynthesis of sunlight and carbon dioxide on nutrient-rich water sources such as sewage ponds.
Air NZ would most likely test the fuel on one engine while normal aviation fuel would drive the other engine. Fuel is held in cells on the aircraft that can be directed to a specific engine.
None of the parties involved will talk about the joint venture development because of confidentiality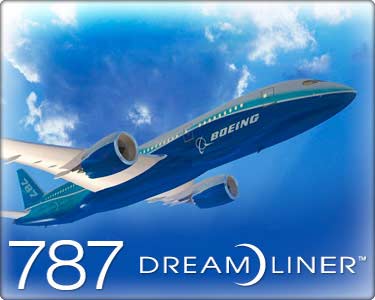 agreements but whispers about the project were circulating at the roll-out of the Boeing 787 Dreamliner in Seattle in the US last week.
Local Marlborough media reported a visit by Boeing to Aquaflow earlier this year and Boeing has stated publicly since then that it believes algae is the airline fuel of the future.
Virgin Fuels announced in April it was working with Boeing to demonstrate biofuel in a 747-400. The focus is on testing algae-derived jet fuel, especially its freezing point.
Boeing's Dave Daggett was reported this year as saying algae ponds totalling 34,000 square kilometres could produce enough fuel to reduce the net CO2 footprint for all of aviation to zero.
Until now the relatively new Blenheim company's focus has been on biodiesel for cars, trucks, buses and boats.
Environment Minister David Parker drew public attention to the company in December when he test drove a Land Rover around Parliament's forecourt that was powered by Aquaflow's blend of algae biofuel and diesel (5% algae fuel and 95% conventional fuel) just a year after it was developed.
Virgin Airline boss Richard Branson met Parker in January to discuss biofuel, including Aquaflow's technology for wild algae.
Aquaflow director Vicki Buck said yesterday that she couldn't talk about any ventures with anyone because to do so would compromise projects on the drawing board.
But she did say a $5 million capital-raising had been successful and the company now had a major international cornerstone shareholder.
The company had also received $90,000 of funding from the Foundation for Research, Science and Technology and would seek further funding for the commercialisation of its technology later this year.
Buck said Aquaflow had been inundated with inquiries from around the world since Parker's test drive.
Aquaflow was recently invited to join the highly regarded Girvan Institute of Technology in Silicon Valley .
Besides Buck, a former Christchurch mayor, its major shareholders are technology expert Nick Gerritsen and Barrie Leay.
The company, formed in October 2005, began operating in May last year after it met a request from the local council to deal with excess algae on sewage ponds. Aquaflow created technology to harvest the sewage pond algae and chemically extract fatty lipids for fuel.
Accounts filed in the prospectus for the capital raising show the company made a $480,090 loss in the six months to September 2006 but Buck said while there was still no operating profit because the company had not yet sold its technology, the funding had put the company in good stead to go forward.