Beijing is ready to use its own wind energy resources to supply power for its Olympic venues. The city's first wind power generator has entered the final installation stage, and is expected to go into use by the end of this year.
On the northern outskirts of Beijing, at the construction site of the city's first wind power generator, workers are trying to install the first of 33 windmills.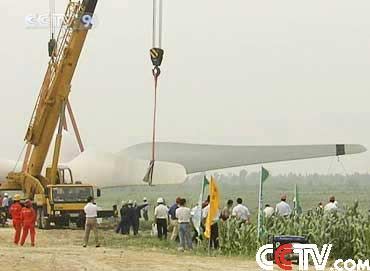 The Guanting Wind Farm is funded by the Beijing Energy Investment Group, a wholly-owned company under the Beijing Municipality. The first phase of the project is expected to be completed by the end of this year at a cost of 74 million US dollars.
Beijing has promised that 20 percent of the electricity supply for its Olympic venues will come from wind power. The construction of the wind power generator is seen as an important step to fulfill that goal.
Liu Yinchun, deputy director of Beijing Energy & Econ. Admin. Office, said, "This project shows Beijing's commitment to hold a "Green Olympiad". When it's finished, we expect it to generate 1 billion kilowatt hours of green power each year and supply electricity to 100 thousand households."
The project is a significant step forward for Beijing to develop and use wind power on a large-scale. The second phase of the work, which will supply another one billion kilowatt hours of electricity a year, is planned to be completed by 2010.