Michigan will soon be producing a new type of ethanol - not from corn but from trees.
Gov. Jennifer Granholm announced Thursday that Michigan will soon be home to the world's first commercial scale cellulosic ethanol plant, to be built by Mascoma Corp., a Massachusetts-based energy biotech company.
Cellulosic ethanol, unlike the more common corn ethanol, is a biofuel that would derive its energy primarily from wood chips and other nonfood crops, or "biomass."
The process that would be used to break down the biomass would use enzymes to break down the tree's cellulose, convert it to sugars, then ferment those sugars into alcohol - the basis for ethanol.
The conversion has a corollary in nature, Mascoma Corp. CEO Bruce Jamerson said.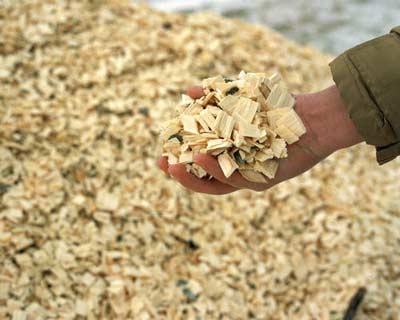 "It's very similar to what goes on in a ruminant animal's stomach, converting grasses into energy," he said. "It's a very similar process, but much more sophisticated and about three times more effective in generating energy."
One of the factors that attracted Mascoma to Michigan was the recent $50 million federal grant MSU received to study biofuels in June. MSU will help in areas such as pretreatment technology for cellulosic ethanol production and energy crops that can be utilized by the plant.
"It tells us there's going to be continuous support for professors, students and research that we can tap into," Jamerson said. "It was absolutely a factor in our coming here."
Jamerson estimated the plan could produce 150 gallons of ethanol out of a cord of wood, or 128 cubic feet, and the total investment for the plant will be $100 million.
Despite the fact the fuel primarily would be derived from wood, it would actually be good for Michigan forests, said Becky Humphries, director of the Department of Natural Resources.
"That may sound counterintuitive but we manage our forests sustainable now, meaning we grow a lot more (trees) than we cut (down) in the forest right now," Humphries said.
Michigan has been losing its marketplace to sell wood, she said.
"As we cut down trees that mature or have become diseased, we don't have places to sell some of that fiber," Humphries said. "This gives us a place to do that."
While Michigan is known for its high-quality hardwood supplies, the state also has a lot of other tree species that are of a lower quality that can be turned into biomass for fuel purposes, she said.
Some, however, are not so sure the new plant is the best idea for Michigan.
"As the world's first anything, I have some reservations about the state using taxpayer funds to underwrite a somewhat experimental venture," said Diane Katz, director of science, environment and technology policy for the Mackinac Center for Public Policy, a conservative think tank.
"My concern would not be the ethanol but the funds," Katz said. "The Mackinac Center has tracked state subsidized programs for years and they are overwhelmingly failures. The market does a better job of making sense of what to invest in than the state does."
There are significant ecological advantages to cellulosic ethanol, such as leaving a small carbon footprint.
Traditional gasoline produces 24.6 pounds in greenhouse gasses per gallon, whereas cellulosic ethanol only puts out 1.2 pounds per gallon, Jamerson said.
It also would be more economy-friendly, he said.
"Compared to oil refineries, which have many dangerous materials, we're very clean," he said. "We don't use acids or harsh chemicals."
Even still, Katz said, cellulosic ethanol remains experimental.
"No one should think it's a perfect substitute," she said. "We should not get our hopes up too much about an ethanol future."