At the state's first biofuels summit last year, the concept of renewable energy was so novel it almost seemed like science fiction.
The meeting, organized by the Florida Department of Agriculture and Consumer Services, attracted a decent crowd, and a lot of curiosity, but a good deal of skepticism, too.
Fast forward a year to this week, and things are beginning to look a lot more here and now.
Last year, State Agriculture Commissioner Charles Bronson led the summit. Jeb Bush and other state leaders, save a handful of state legislators, were not visible.
But state leaders lined up Thursday at the Renaissance Vinoy Resort hotel to address the packed Farm to Fuel meeting, including Gov. Charlie Crist fresh from his own Climate Change summit in Miami last week, and state Chief Financial Officer Alex Sink.
"This has become a movement," Crist told the opening session.
"We've got to do more," he said later, talking to reporters. "People understand it's important to wean us off dependence on foreign oil, that we have an opportunity as well as a responsibility to develop fuel right here in Florida."
A week after Crist signed three executive orders meant to sharply reduce the state's dependence on foreign oil while also cutting emissions of greenhouse gases, the hallways of the Vinoy were packed and rife with new deals being struck for biofuels. A sample of the day's news:
- FPL Energy announced the signing of a letter of intent with Citrus Energy LLC of Boca Raton to build a 4-million gallon plant that will use citrus peels to make ethanol;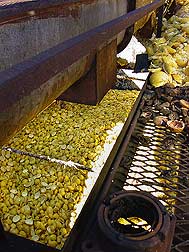 - Progress Energy Florida, based in St. Petersburg, put out a request for renewables, asking any and all energy and fuel producers to come to them with their plans;
- A Dade City biodiesel plant set to begin production next week reported being "bombarded" with interest from energy producers looking to tap its power.
The increased interest and excitement in Farm to Fuel stems in large part from state energy and fuel companies scrambling to meet Crist's new mandate that all utilities get 20 percent of their energy from renewable sources.
"There's been an exponential evolution in this market, both from the government side and the private side, since last year," said Jerry Paul, a Tallahassee-based energy consultant with Capitol Energy.
FPL Energy says its plant in Hendry County will be the world's first commercial plant to convert citrus peels into ethanol. Florida could produce 60-million to 90-million gallons of ethanol per year from citrus peels, replacing about 1 percent of Florida's annual consumption of gasoline, said David Stewart, president of Citrus Energy.
The plant will be owned and operated by FPL Energy, and is expected to be producing ethanol within two years, Stewart said.
Similarly, Progress Energy said its statewide call to producers of renewable energy and fuel was designed to find "newer, cleaner ways to produce energy," stated CEO Jeff Lyash.
Progress Energy already gets 5 percent of its power from renewable sources, including energy efficiency, biomass, and landfill gas and waste, said spokeswoman Cherie Jacobs. The utility also plans to partner with a biomass plant built by Biomass Investment Group.
Construction has not yet begun, but Progress Energy expects to have the 130-megawatt plant online by 2010.
Other innovative Florida companies are simply hoping to capitalize on the large new market opening up for renewable fuels.
Agri-Source Fuels LLC says its 120-million gallon biodiesel plant in Dade City will be the largest in the country when it is fully operational. The company is leasing a former Lykes juice processing plant, which closed three years ago. The company is using Alabama chicken waste as its primary fuel.
Crist also used the summit to announce that he will lead a state trade mission to Brazil in November in part to explore collaboration with that country's huge ethanol industry.
Crist told reporters that Brazil was interested in building ethanol gas stations in Florida as well as supplying the fuel.
Although imports of Brazilian ethanol are currently limited by a tariff to protect domestic producers, Bronson said the state would need to import large amounts of fuel to meet its targets. He predicted that in the next five to 10 years 60 percent of the state's transportation fuel would be renewable, with half of that coming from abroad.
"I think you are going to see a major influx of biofuels in the state of Florida," he said.