Ford aims for fuel cell speed record at Bonneville
Ford aims to set a world speed record for a hydrogen fuel cell powered Ford Fusion next month.
Working with Ohio State University, Ballard and Roush, Ford have produced the Fusion Hydrogen 999 car to set a new record at Bonneville Salt Flats' Speed Week.
"Racing is part of Ford Motor Company's DNA so it seemed only natural for us to build a fuel cell race car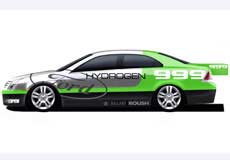 that runs on hydrogen, a fuel that could someday play a key role in meeting the energy needs of the transportation sector," said Gerhard Schmidt, vice president of Ford's research and advanced engineering team.
"Our goal in attempting this record is to further expand our technological horizons with fuel cell powered vehicles."
The Ford Fusion Hydrogen 999 land speed record vehicle was designed by Ford engineers and fabricated and built by Roush in Allen Park, Michigan.
Ohio State students are providing the design of the 770 hp electric motor, while Ballard is supplying the hydrogen fuel cells.
Ford retiree Rick Byrnes, a veteran Bonneville racer, will pilot the Ford Fusion Hydrogen 999 car on its record attempt.
Ford researchers also are working with Ohio State University student engineers on its Buckeye Bullet 2, a fuel cell-powered racer that will compete for a similar world record in the unlimited class category.
In 2004, Ohio State students set the unlimited land speed record for an electric vehicle by running 315 mph in the first Buckeye Bullet, dubbed BB1.