A maker of high-efficiency batteries that General Motors Corp. hopes to use to power hybrid cars has reached a battery supply deal with the world's largest maker of general aviation airplanes.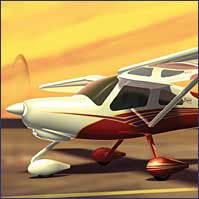 A123 Systems said Wednesday it will provide Cessna Aircraft Co. with its nanophosphate lithium ion batteries to start up engines and provide emergency backup power in Cessna Citation business jets.
Cessna delivered more than 300 planes from its nine-model Citation line last year. An undetermined number of those models will be installed with A123's technology after battery deliveries begin in late spring or early summer next year, said Pia Bergqvist, a spokeswoman for Wichita, Kan.-based Cessna, a unit of Providence, R.I.-based Textron Inc. (NYSE:TXT PRA) (NYSE:TXT PRB) (NYSE:TXT)
The number of jets using the new batteries could increase dramatically if Cessna replaces old batteries in the 5,000 twin-engine Citations already delivered -- the largest fleet of business jets in the world.
Cessna is unsure how many A123 batteries it ultimately will use in its planes, but Bergqvist said the company is open to using A123 batteries as replacements as older-model batteries in Citations undergo routine maintenance.
'It's certainly a possibility to put them in planes that have already been delivered,' she said.
Doug Moorehead, aviation systems product manager at privately held A123, declined to disclose the potential dollar value of Wednesday's agreement or say how much his company was charging Cessna per battery.
But he said the deal was 'very important to us. We want to build out our aviation product line, and this gives us a great credibility play as we go out to other aircraft manufacturers.'
A123 isn't yet in the commercial aviation market. The six-year-old company provides batteries made in China for Black & Decker (NYSE:BDK) and DeWalt power tools.
The Cessna deal comes six weeks after A123 signed an agreement that GM hopes will give it an edge in the race to bring plug-in hybrid and electric cars to market.
A123 company is supplying batteries for GM to test, with an eye toward having electrically powered vehicles on the market by the end of 2010.
Current hybrids use nickel-metal-hydride batteries, which are larger than lithium-ion systems. The lithium-ion batteries can pack more electric power into a smaller space.
A123 hopes those advantages will help lithium-ion batteries take over the aviation market, where weight is crucial to performance and efficiency.
'I'm confident lithium ion will replace every battery in newly manufactured aircraft in 10 years,' Moorehead said.