Miles Electric Vehicles, an all electric vehicle manufacturer, has exhibited its low speed, zero emissions ZX40ST work truck and ZX40S Advanced Design SUV at the 2008 NAFA Institute & Expo at the Salt Palace Convention Center.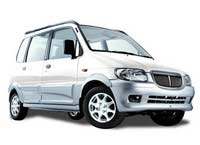 "The new AC motor ZX40ST and ZX40S have generated an overwhelmingly positive response from fleet users," said Miles Electric Vehicles COO, Jeff Boyd. "Our vehicles really fill a product gap in the market for affordable, light duty, zero emissions vehicles that look and perform like their gas powered counterparts," Boyd stated.
Both the ZX40ST work truck and the ZX40S Advanced Design SUV, offer advanced AC motor technology that provides regenerative breaking, 50% more power and 30% more torque than a traditional DC motor. Regenerative breaking combined with an advanced 72 volt, maintenance free, absorbed glass mat battery system gives the MILES line a 50-60 mile driving range on a single charge, which is perfectly suited for closed campus, fleet driving. Moreover, the MILES line is specifically engineered and designed with safety as a fundamental consideration; each model conforms to U.S. NHTSA safety standards. MILES vehicles have an all steel body, DOT compliant seatbelts and tempered safety glass throughout.
Beyond its advanced technology, the MILES line of vehicles cuts costs while reducing emissions. With EV operating costs estimated at $0.03/mile (EPA) and gas at $3.50/gallon, a gasoline-powered vehicle would need a fuel economy of 117 mpg to match that of a MILES electric vehicle. From an environmental standpoint, the MILES ZX40ST and ZX40S Advanced Design produce no tailpipe exhaust or evaporative emissions, and reduce pollutants by more than 90% when compared to the cleanest conventional gasoline-powered vehicles even when factoring in emissions from power plants generating the electricity to charge the vehicle (CARB). Additionally, replacing just one gas powered fleet vehicle with a MILES vehicle will prevent an average of 13,330 pounds of CO2 emissions.