Northern California based Green Vehicles will begin selling two best-in-class Lithium-Ion powered pure electric vehicles early this summer. The TRIAC is a 5-speed freeway drivable 3-wheeler with a powerful 20kW AC motor capable of 80MPH. On a single charge, at a speed of 45MPH, you can drive for 100 miles.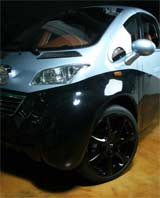 The BUCKSHOT is a 3-speed Lithium-Ion powered truck also with a 20kW AC motor. This is a true work truck, with close attention paid to payload capacity, torque, and durability. For deliveries, the BUCKSHOT can come with a lockable cargo shell; for construction, a steel lumber rack; and for all-purpose functionality, a steel body with an extra-long bed and an ample passenger cabin. Environmentally conscious universities, businesses, and municipalities should take note of the BUCKSHOT; there is nothing like it!
Both vehicles come standard with one of the world's most sophisticated battery maintenance systems to ensure that you get the full potential out of each high quality Lithium-Ion battery. Additionally, each EV has an onboard charger that can be plugged into 120V or 240V outlets, giving owners the option for faster charging without giving up the convenience of being able to plug in anywhere.
Green Vehicles' two NEVs, the Microwatt and the Moose are still underdevelopment; our hope is to bring them to market this fall. In the neighborhood electric vehicle market, there is a delicate balance between affordability and quality; we are happy only when we can offer both.