A Canadian start-up company has begun testing an extremely novel approach for wind power. An airship that is tethered to the ground that rotates horizontally in the wind to generate electricity.
Known as MARS, an acronym for the Magenn Power Air Rotor System, the device is a lighter-than-air turbine that captures wind, converts it into energy and then conducts it via a tether into a power grid or wherever it's needed.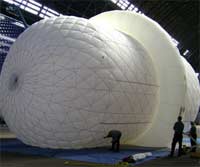 Pierre Rivard, president and CEO of Magenn, said the MARS is intended as a renewable energy source for industrial customers seeking to replace diesel generators or who need to use energy in remote locations.
"We see our product as creating new demand for wind, as opposed to tapping into" the current wind-energy market, Rivard said.
Eventually, however, the MARS could be utilized where conventional wind power is already in use.
A difference between the lighter-than-air turbine and the conventional turbine, Rivard said, is its mobility. Unlike fixed turbines, it's not as dependant on factors such as the availability of open space. It also can be floated above tree lines to access strong and constant wind, he said.
Traditional wind power works best on flat land, where there are fewer obstructions to block wind flow. However, only about 15 percent of the earth's land mass is flat. Rivard says the MARS technology can help provide wind power in areas that aren't flat.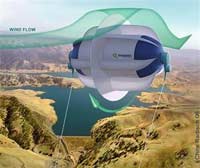 At 30 feet long and 10 feet in diameter, the MARS is held aloft by a conductive tether between 300 and 1,000 feet above ground.
The power generated by Magenn's turbines is also competitive with traditional wind energy, Rivard said. Power from the MARS is projected to cost less than 50-75 cents a kilowatt hour, which is average for energy from traditional wind turbines.
Rivard said the MARS is still in the development stage. Recently, the turbine was inflated and tethered inside the TCOM hangar, then transported to a customer in Virginia for a demonstration.
"We just had our inflation trials recently indoors within the TCOM facility," he said.
Magenn, which registered its MARS patent in 2004, plans to deploy the lighter-than-air turbines at four locations in the next year, Rivard said.
He said his company chose to rent hangar space from TCOM because of the company's expertise in airships and aerostats. Magenn also sought advice on deployment procedures from TCOM, he said.
"TCOM is really one of the most advanced companies in the world for airships," Rivard said."