An Oregon inventor says he may have the solution to high gas prices, car emissions and global warming. He says the answer is in a bottle of fuel additive. He's studied and tested his secret formula for years in his garage, and finally thinks it's the right time for the fuel catalyst to hit the streets.
" 'Improving air quality won't be easy,' " said Dr. Bob Kurko. "It will be very easy (actually), as soon as this goes into all fuels: diesel; auto fuel; boat fuel; it will take care of lawn mowers, and anything that burns fuel will burn it ultra clean."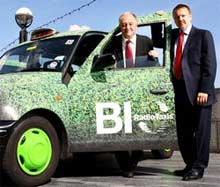 Dr. Kurko and his E3 Fuels company team have met with Idaho's Commerce and USDA. They are interested in establishing plants in Idaho that will produce their product, and they say their fuel additive invention will reduce vehicle emissions by 90 percent and increase fuel economy by one third.
E3 Fuels thinks Idaho is the perfect place to go green with this idea because of the state's agriculture background. They say the abundant vegetable and fruit farms across the state will benefit, because the company would pay local farmers for their bio-waste. The unwanted material from Idaho growers would then be used to produce the fuel catalyst at plants across the Gem state.
"We would like to build smaller plants within the state," Dr. Kurko said. "It will be beneficial to all of the growers and farmers."
On top of that, Dr. Kurko says not only will it be good for the environment and for drivers' pocketbooks, but it will also open doors to more jobs in Idaho.
"This will benefit Idaho in big ways," Dr. Kurko said. "One being, it will provide a number of jobs."
Dr. Kurko's idea has already caught on with family. His son, a Treasure Valley resident for the last dozen years, says Idaho already thinks green, and this mentality is just what the company needs to get this vision going; and in time, may put Idaho on the map as one of the most environmentally friendly states.
"Idaho has a choice right now in bringing these products to light and what that will do, is probably bring the cleanest state that we will have today and let alone the starting point to get the world clean," said Chris Kurko, who is the vice president of E3 Fuels.
For now, this E3 Fuel's mission is still at preliminary stages and they will continue to work with Idaho state representatives.
After the meeting one state representative says there is interest in bringing the fuel additive to Idaho. A representative with the Idaho Commerce, Jerry Miller, stated during a phone interview that he thinks bringing Dr. Kurko's vision to the Gem state sounds like a great opportunity that will benefit Idaho and even help solve many Treasure Valley emissions and energy problems.
Dr. Kurko and his team say they are honored to be invited to Idaho to share their invention, and they hope this is only the beginning to a very big environmental statement.