The FloDesign Wind Turbine has been named the winner of the MIT Clean Energy Entrepreneurship competition. The breakthrough wind turbine design is geared to perform efficiently in a wide range of wind conditions - particularly in areas with lower wind speeds - which current wind turbines are not effectively designed for.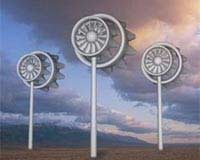 The novel design incorporates a mature aerospace propulsion technology that outperforms existing turbines by a factor of two to three. It has also been found to be less noisy and safer for wildlife than existing turbine systems.
"To finish first among all of the other innovative designs and concepts is very gratifying. We'll put the cash award to good use in bringing what we believe is an exciting design to the marketplace," said Matthew Commons, CFO of the start-up company.
The FloDesign team was selected - out of 94 initial applicants - by prominent industry judges and venture capitalists for the technology's clean energy impact and market potential as well as the team's competitive advantage and business economics. The rigorous five-month competition consisted of several phases and culminated in business plan submittals and presentations before expert judging panels.
"It is my hope that the end of this competition will mark a new beginning in the development of clean energy solutions for our customers," said Tom May, Chairman, President and CEO of NSTAR, the largest Massachusetts-based electric and gas utility company and major competition sponsor.
"The powerful synergy of innovation and entrepreneurship will be a key driver in our common need to overcome energy-related challenges that threaten the environment and economic competitiveness."
The Massachusetts-based FloDesign team hopes to have a demonstration unit up and running within 18 months - potentially within the Commonwealth. "The MIT Clean Energy Entrepreneurship Competition was instrumental in bringing our team together to help further this technology," said Commons. "It provided us with the networking, guidance and exposure to venture capitalists necessary to help commercialize this new design."
Open to both student and professional industry teams, the competition was sponsored by the Massachusetts Institute of Technology, NSTAR Electric and Gas Corporation and the U.S. Department of Energy (US DOE) to accelerate the innovation of new, clean energy technologies.
Proposed business plans for clean energy solutions involved products or technologies that promote or enhance or advance diversity of supply sources, efficiency in resource use and/or reduction in greenhouse gas emission.
"The goal of the competition was to create a new generation of entrepreneurs to significantly accelerate the introduction of clean energy technologies into the marketplace. I expect that the competition will be even more competitive next year," said Bill Aulet, Chairman and Founder of the competition.
In addition to the top prize, two prizes of $20,000 each were awarded to the top MIT student and industry team. Covalent Solar - the top MIT student team - is seeking to develop and commercialize photovoltaic modules that improve power conversion efficiency by 30 percent compared to the current standard.
The top industry team, Catalyzed Combustion Technologies, is developing a technology that speeds up diesel engine combustion to achieve an efficiency gain of 20 percent.