DuPont announced Wednesday a joint venture with Danisco, a Danish company, to develop and sell ethanol made from fibrous, nonfood parts of the corn plant and other crops.
DuPont and Genencor, a division of Danisco that has a manufacturing plant in Cedar Rapids, are initially investing a combined $140 million over three years in a U.S.-based venture called DuPont Danisco Cellulosic Ethanol LLC.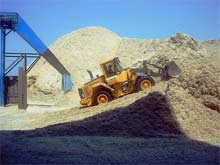 DuPont Danisco will focus on making ethanol from the leaves, stalks, cobs and kernel fiber from corn and from sugarcane bagasse, which is left after the sugarcane stalk has been pressed for juice.
The goal of the joint venture is to lower the cost of producing cellulosic ethanol by combining the processing system into a single, integrated technology, the companies said.
Wilmington, Del.-based DuPont has already developed bacteria that ferments sugar from cornstalks and leaves, materials known as stover.
Genencor has developed enzymes that boost the conversion of sugars from biomass materials, which can then be fermented to make ethanol.
DuPont Chief Executive Charles Holliday Jr. said combining chemical-maker DuPont and enzyme-developer Genencor increases the potential - and could reduce the cost - of making cellulosic ethanol from biomass sources.
Cellulose-based fuel would blunt criticism
Using nonfood crops and the parts of plants not eaten by humans would help answer increasingly vocal critics of the ethanol industry who blame the industry for contributing to the rising price of food in the world.
Higher food prices have sparked demonstrations and riots in some poor countries, where people spend a high percentage of their meager incomes on basic food like rice or corn.
Making ethanol from cellulose sources, like crop waste, is also needed to help offset the nation's use of gasoline, industry experts say, and help the U.S. ethanol industry meet an ambitious government mandate of supplying 36 billion gallons of biofuels by 2022.
Only 15 billion gallons of that can be corn-based ethanol, the law says. The balance will have to come from other feedstocks like cellulosic plant matter.
U.S. ethanol plants currently produce about 8.5 billion gallons of ethanol a year, according to the Renewable Fuels Association, almost all of it from corn.
Iowa is the leading producer of corn-based ethanol, but making cellulosic ethanol from cobs, leaves and plants - not kernels - has never been done on a large scale.
Pioneer's role in the joint venture will be to provide corn varieties that lend themselves to the cellulosic-making process being developed, said Russ Sanders, Pioneer's director of biofuels development.
"The focus of this joint venture agreement deals with the processing technologies for cellulosic ethanol," Sanders said.
"Pioneer fits in with those goals by developing the feedstocks for the technologies."
Commercial-scale plant expected in 3 years
DuPont Danisco said it will have a pilot plant in operation next year in the United States.
The first commercial-scale demonstration plant will be operating in the next three years, the companies said. It is expected that commercial volumes of cellulosic ethanol can be produced by 2012.
Sanders said possible sites for a plant are being reviewed.
Robert Brown, a biofuels expert at Iowa State University, said capital costs need to be reduced before the next generation of biofuels using biomass feedstocks can be commercialized.
A cellulosic biorefinery using current technology would cost about five times as much to build as a conventional ethanol plant, Brown said.
A 100-million-gallon-a-year cellulosic project could cost as much as $1 billion, although the price could be reduced with further research, he said.
DuPont and Genencor have worked together since 1995 making renewable materials from cornstarch, DuPont said. Danisco acquired Genencor in 2005. The acquisition made Danisco the world's second largest supplier of industrial enzymes.