Mercedes-Benz has unveiled its revised versions of both the A-Class and B-Class models at the Leipzig Motor Show in Germany.
Both small premium cars feature a host of revisions to exterior and interior styling, but the major news is under the hood with the introduction of a start/stop system on the most popular models to lower fuel consumption and CO2 emissions.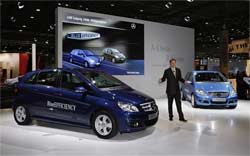 Mercedes claims the new system, which will be available on the A150, A170, B150 and B170 models from late 2008 will achieve an increased effieciency of 10%. The new A 160 CDI with BlueEFFICIENCY can get 52 Mpg. The system pre-empts the vehicle coming to a halt by switching off the engine as the driver selects neutral while braking at low speed.
The engine is restarted as soon as the driver releases the brakes or uses the clutch. The German manufacturer believes it has developed a system that restarts the engine more quietly and with less shudder than rivals.
As well as the start/stop system, the new A-Class will feature further technological improvements including Hill Start Assist as standard and the option of an automated parking system.
The 2008 models will boast an impressive list of standard equipment including a reach adjustable steering column, crash responsive emergency lighting and adaptive brake lights. As with the A-Class, park assist will also be available. Voice control has filtered down from more expensive Mercedes models, as has the option of European sat-nav.