Global Solar Energy startup says it has refined its thin-film flexible photovoltaic cell to the point it says it can produce solar panels at one-third to one-half the cost of the current industry standard.
"We're sold out for the next year at a price that ensures we're profitable," said Mike Gering, president and CEO of Global Solar. "There's a big difference between production and the laboratory. We're in production. We can replicate this time after time."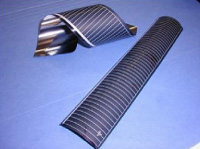 On March 6, the company held a grand opening at its new 100,000 square-foot, 40-megawatt capacity factory, 8500 S. Rita Road. The company's previous factory, 5575 S. Houghton Road, was a 33,000 square-foot, 4.2-megawatt capacity factory.
Global Solar is already known for its thin, flexible photovoltaic cells, used by the U.S. Army in its portable solar field battery chargers. The older portable product worked just fine, but it didn't have the durability or efficiency needed for rooftop applications.
In December, the company achieved greater than 10 percent average efficiency for its flexible solar cells, an ability to convert sunlight into clean energy on par with Wall Street thin-film solar powerhouse First Solar, and near that of the industry standard crystalline silicon, which, at 12 to 14 percent efficiency, dominates 90 percent of the solar market.
But the Tucson firm, which will employ 180 people at the new factory, is banking on the ultra-low manufacturing costs of its thin, flexible product to make a glass-fronted rooftop solar panel that is lightweight, durable and cheaper than the industry standard by a third to a half.
"What's significant is that (10 percent) is their production average, not their best," said Bill Shafarman, a materials scientist with the University of Delaware's Institute of Energy Conversion. "Other thin-film companies (such as First Solar) are making single, large modules on glass with module efficiencies between 9 to 13 percent. So it's not as good as some of those companies, but this is a unique product because it's flexible and lightweight."
Unlike First Solar, which uses cadmium telluride (CdTe) deposited directly on large modules of glass, Global Solar uses a semiconductor material known as CIGS - for copper, indium, gallium and di-selenide. At high temperatures, the material can be applied to stainless steel foil in 3,000-foot rolls in a closed chamber about the size of a refrigerator. The product is then printed with a conductive contact of metal ink, cut into individual cells, tested, reassembled and laminated in clear plastic or glass.
"We didn't invent CIGS, but we were the first to figure out how to do it on metal foil on large areas at high speed," said Scott Wiedeman, Global Solar's chief scientist. "People said, 'You're crazy. It can't be done; you can't boil copper in a large area, you can't control it, you won't be able to make it day in and day out.' They've since changed their minds."
Simultaneous with the grand opening of its new factory, Global Solar broke ground on a 750-kilowatt solar field next to the factory that will be the largest CIGS photovoltaic solar field in the world. The solar field will generate more than 1.1 million kilowatt-hours of renewable electricity annually for the factory and also will enable Global Solar Energy to further test its CIGS technology in a real-world application.
The solar field is being financed through San Francisco-based MMA Renewable Ventures, which will own and operate the field and sell the solar-generated power to Global Solar through a 25-year agreement.
Arizona Corporation Commissioner Bill Mundell was at the grand opening and said completion of the new building with its increased capacity is a case of renewable energy maturing into fruition.
The corporation commission has passed a mandate requiring utilities to have 15 percent of of their energy output by 2025 come from renewable sources.
"This is what will get us there," Mundell said. "This technology will lessen our dependence on fossil fuels and create jobs. It is really exciting."
Financially, Global Solar finally broke even last year, Gering said, after years of losing money in research and development for its previous owner, Tucson Electric Power. In 2006, Global Solar was sold for $16 million to Solon AG, a German firm, and a European private investor, who has remained anonymous.