Adams Electric Cooperative's has unveiled the first of its kind utility vehicle powered by electricity that could start a nationwide movement toward eco friendly commercial vehicles.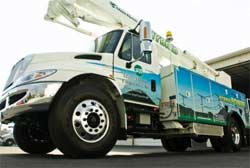 If all goes as planned, this Plug-in Hybrid Electric Vehicle will be reducing fuel emissions, saving gas money and recharging its own battery - unlike any of the other dozen bucket trucks in the local co-op's fleet.
When the new truck officially goes on the road sometime in the next few weeks, Adams Electric will become the first utility company in America to operate the new environmentally-friendly technology.
The question of how a small utility company in southcentral Pennsylvania could be on the cutting edge of hybrid technology comes down, at least partly, to being in the right place at the right time, said Ronald Plank, the company's vice president for operations.
Adams Electric was in the market for a new bucket truck, and Plank said he was immediately interested in the hybrid technology upon seeing it displayed at an industry conference in Kentucky.
And, Plank said, the company is committed to environmental investment.
"Somebody has to step out and say, 'We're going to make a difference,'" he said.
Among the vehicle's many advantages is its ability to operate a full work day on only a battery, which can be charged at night during non-peak hours of electricity usage to reduce costs.
The company expects to save between 20 and 25 percent in fuel costs with the hybrid, Plank said.
The vehicle is not limited to battery-only operation, however.
If the truck is out for more than 8 hours - such as after a storm - workers have the option of powering the vehicle with diesel fuel, Plank said.
That's an important feature for a company that can't afford to have any trucks sitting in the garage when there is work to be done, he said.
The final product - assembled in York by Dueco Inc. - arrived last week and will be making its rounds to district meetings for show before it is put on the road, Plank said.
"It's on the parade route," he said.
Next, the truck will spend between three and fourth months in each of Adams Electric's three zones, spread among Adams, York, Franklin and Cumberland counties.
The truck and its new owner have been featured in various trade magazines and other media, said Jim Krut, Adams Electric's manager of communications.
"We're hearing from all across the country," Krut said.