Hymotion a division of A123 systems has announced that its L5 Plug-in Conversion Modules for the Toyota Prius will be available to the general public starting in July of 2008. The high powered Module will cost $9,995 which includes a three-year standard warranty and installation, with an additional $400 for shipping. In order to get to the front of the waiting list they require a $1000 deposit which is fully refundable. The installation is not left to the buyer, Hymotion is establishing certified installation partners nationwide.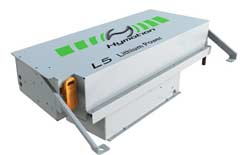 The Hymotion L5 Plug-in Conversion Module is a rechargeable Nanophosphate™ lithium ion battery that uses regular 120V grid power to recharge, providing the user with ~5kWh of rechargeable energy storage at full capacity.
Through the increased use of electric drive, the Hymotion Plug-in Conversion Module enables the Prius to achieve in excess of up to 100 mpg for 30-40 miles over a range of up to 40 miles, dependent upon driving conditions. Once the L5 module is depleted, the vehicle reverts to the normal drive cycle of a stock Toyota Prius.
The L5 module provides more frequent periods of all-electric driving during your commute, but the L5 module does not block the gas engine from engaging while the pack has charge. When the Prius needs power, either dictated by your right foot, or by driving conditions like hills, the gas engine will engage to supply that power.