Seven African governments and the world's largest banks and construction firms are meeting in London to plan the most powerful dam ever conceived - an $80bn hydro power project on the Congo river which, its supporters say, could double the amount of electricity available on the continent.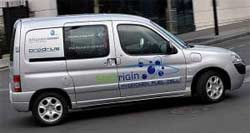 G8 and some African governments hope that the Grand Inga dam in the Democratic Republic of Congo will generate twice as much electricity as the world's current largest dam, the Three Gorges in China, and jump start industrial development on the continent, bringing electricity to hundreds of million of people.
But while governments and banks expect the dam to export electricity as far away as South Africa, Nigeria and Egypt, and even Europe and Israel, environment groups and local people warned that it could bypass the most needy and end up as Africa's most ruinous white elephant, consigning one of the poorest countries to mountainous debts.
The dam is being planned to exploit one of the largest major water falls by volume anywhere in the world - nine miles of rapids which lie 90 miles from the mouth of the Congo where the world's second largest river drops nearly 100 metres in just eight miles. Two hydroelectric plants, known as Inga 1 and Inga 2, were constructed near there in the 1970s and a third is planned, but Grand Inga is intended to dwarf them all. One feasibility study suggests the 40,000MW dam will be 150m high, and will harness 26,000 cubic metres of water a second, with more than 50 turbines each producing nearly as much power as a British nuclear reactor.
"It is the greatest sustainable development project, offering Africa a unique chance for interdependence and prosperity," said Doucet. "It's much more feasible now than ever. There is a peace settlement in Congo, and economic and technical studies have all shown it is possible."
Grand Inga's prospects of being completed by 2022 are said to have risen significantly in the last year as countries, banks and private companies have found they can earn high returns from the emerging global carbon offset market and UN climate change credits. In return for investments in clean power, rich countries such as Britain hope to be able to offset their own greenhouse gas emissions against the renewable energy that dams such as Grand Inga would produce, and constructors are making windfall profits out of renewable energy projects in developing countries.