Less than 1% of the world's deserts could generate as much electricity as the world is currently using, according to an international network of scientists and engineers, and backed by detailed research by the German Aerospace Centre and the U.S. Department of Energy.
According to Dr Gerhard Knies, the coordinator of the group that developed the plan, the technologies needed are well established, economically viable and ready to use right away.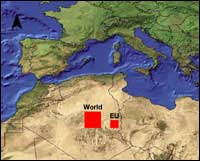 The plan, known as DESERTEC, focuses on a technology known as concentrated solar power (CSP) which uses mirrors to concentrate sunlight in order to create steam and drive electricity generating turbines.
The technology also allows for the storage of thermal energy using molten salt, which means that the heat generated during sunny periods may also be utilised at night. This will the case with the recently announced 280 MW Solana CSP project in Arizona, which is scheduled to go into operation by 2011.
According to Dr Knies, every year each square kilometre of desert receives the solar energy equivalent to 1.5 millions barrels of oil, which means that the world's deserts alone hold the capacity equal to several hundred times the world's current energy consumption.
The plan is backed by a study commissioned by the Federal Ministry for the Environment, Nature Conservation and Nuclear Safety in Germany, which showed that a mix of local renewable energy sources combined with imports of solar from the Middle East and North Africa could largely power Europe by the next few decades.
The Trans-Mediterranean Interconnection for Concentrating Solar Power (TRANS-CSP) study analysed a total of 30 countries in Europe, and evaluated an interconnection of the electricity grids of Europe, the Middle East and North Africa (EUMENA).
According to the study, a well-balanced mix of renewable energy sources backed by fossil fuels can provide sustainable, competitive and secure electricity for Europe by 2050.
An efficient backup infrastructure will be necessary to complement the renewable electricity mix, providing firm capacity on demand by quickly reacting, natural gas fired peaking plants, and by an efficient grid infrastructure to distribute renewable electricity from the best centres of production to the main centres of demand.
The study suggests that if initiated now, the change to a sustainable energy mix could lead to less expensive power generation than a business as usual strategy in a time span of about 15 years.
Furthermore, imported fuels would be increasingly substituted by renewable, mostly domestic energy sources and the negative socio-economic impacts of fossil fuel price escalation could be reversed by 2020, if an adequate political and legal framework is established at time.
If the study was implemented, the authors suggest that carbon emissions could also be reduced to 25 % of levels in the year 2000.
The TRANS-CSP study calculates that CSP is likely to become one of the cheapest sources of electricity in Europe, including the cost of transmission.
According to Dr Knies, it was feasible and economically viable to transmit electricity from CSP plants for more than 3000 km using highly-efficient HVDC transmission lines, which offered great benefits to the 90% of the world's population that lived within 2700 km of a desert.
It has been suggested that DESERTEC had the potential to break deadlocks in international climate change emission negotiations such as the follow up to the Kyoto Protocol, as countries such as China, India and the United States could leapfrog past their 'dirty' coal based development phase whilst increasing their energy supplies.
Meanwhile, the concept appears to be getting support within Europe, with German Parliamentary State Secretary Michael Müller suggesting that the concept showed promise for Europe. Müller noted that renewable technologies such as CSP offered developing countries a unique opportunity to export energy to Europe.
The European Commission has also just launched the Global Energy Efficiency and Renewable Energy Fund (GEEREF) for developing countries, with an initial €80 million, and hopes to mobilise up to €1 billion in the longer term.
Explaining their motivation to launch this fund, European Commissioner for development and humanitarian aid, Louis Michel and Commissioner for Environment Stavros Dimas, both emphasized that "Developing countries must have access to affordable and clean energy supplies: this is a prerequisite for sustainable development. This fund can foster private investments and become a real source of sustainable development, especially in Africa".
International climate change discussions are heating up again, with South African Environment Minister Marthinus van Schalkwyk issuing a strongly worded statement this week in response to U.S. President George Bush's greenhouse-gas emissions announcement on the eve of the meeting of Environment Ministers from the Major Economies in Paris.
President Bush announced that he had set a goal for the U.S. to halt the growth of greenhouse-gas emissions by 2025, while reiterating his opposition to the Kyoto Protocol.
The South African Minister warned that the US Administration was isolated in its position, bringing them up against the overwhelming majority of the developed and developing world.