An auto mechanic tinkering on the patio of his Kane'ohe home appears on the verge of gaining EPA approval for a new refrigerant that could have a big impact on global warming.
Richard Maruya said his HCR188c hydrocarbon blend is designed to replace current refrigerants in air conditioners, refrigerators and freezers that contribute "greenhouse" gases to the atmosphere, and use less electricity in the bargain.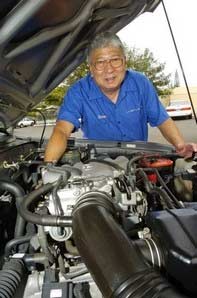 Although widely accepted in Europe, Asia and elsewhere, hydrocarbon-based refrigerants are banned in the United States because of concerns about flammability.
But Maruya said independent testing has shown the amount of HCR188c needed is so small — about half a shot glass full for a home refrigerator and two for a car's air-conditioning system — that there is little fire threat.
His self-financed invention has caught the attention of appliance manufacturers and the environmental group Greenpeace, among others.
Kert Davies, research director for Greenpeace in the United States, said he is "amazed" at Maruya's work and his persistence over the four years the Hawai'i man has been seeking Environmental Protection Agency approval for HCR188c.
Davies even predicted that Maruya could become "a historic figure someday" if he indeed moves the country away from hydrofluorocarbons, or HFCs, a global warming gas.
"My biggest praise for Richard is that he has forced the EPA to do a little work on this for the first time with a little bit more open eyes," said Davies, who is based in Washington, D.C. "It's stunning. I'm so impressed with his nerve, his moxie, his stick-to-it-ness. A lesser man would have given up a long time ago."
Although yet to bestow its seal of approval, the EPA's Region IX office last week honored Maruya with a 2008 Environmental Award for his "innovative research" and "unwavering commitment to achieve this environmentally friendly product."
Maruya, 59, is pushing HCR188c as a replacement for HFC-based refrigerants, which in turn were developed as a replacement for ozone-eating chlorofluorocarbons, or CFCs.
HFCs are not ozone-depleting, but are a powerful global warming gas when released into the atmosphere. Davies called HFCs "a perfect greenhouse gas" because of their durability and heat-trapping properties.
Hydrocarbons, like those in Maruya's blend, have zero ozone-depletion potential and very low global warming potential.
Maruya said he began thinking about a more energy-efficient and environmentally safe refrigerant about 15 years ago, after an injury sidelined him from running his service station and machine shop. The break from his regular work left Maruya with time to sit around with friends and hash out the major issues of the day, such as global warming.
He began researching alternative refrigerants and mixing different blends of butane, methane, propane, pentane and other naturally occurring hydrocarbons in a makeshift home laboratory. Maruya said he also found a great resource in his late father, Raymond Maruya, a former automotive instructor for Union Oil Co.
The inventor said he used his dad, who was in his 90s at the time, as a sounding board and tested formulas suggested by the older man on the many refrigerators and freezers Maruya keeps at his house and in the air-conditioning system of a 1996 Toyota pickup truck.
"At first I was just fooling around. ... It wasn't easy. It took me a while to figure this out," Maruya said.
What he hit upon was a blend of eight hydrocarbons that produce a refrigerant "where you use less, much less, and the flammability level is much lower," he said.
When he developed his mixture to the point where he needed only a third of the usual amount of refrigerant required for cooling, Maruya decided to take his invention to the next level by hiring a professional "blender" in California to achieve a more precise mix.
With tweaking, the result was a 25 percent "charge," meaning an HFC-based refrigerant could be replaced with only a quarter of the usual amount using Maruya's HCR188c.
After filing an EPA application, he submitted his hydrocarbon blend to the international testing firm Intertek, bringing even more good news. Among the test findings were that use of the smaller amounts of HCR188c in a refrigerator led to energy savings of 5 percent to 10 percent.
Intertek scientists initially were "shocked" by the results, Maruya said, but now use one of the HCR188c test appliances as their employee fridge.
However, the EPA remains wary of hydrocarbon-based refrigerants because of the components' highly flammable nature. But with so little of the refrigerant needed, Maruya and others say there is a miniscule fire hazard.
"With the meager amounts I use, risk-assessment experts tell me it's just like having the same amount as the butane lighter in your pocket," he said.
Greenpeace's Davies said the EPA appears to be slowly coming around.
"What Richard has accomplished with some of the data he has submitted has convinced the agency that just a little of this gas in your refrigerator, even if released in a typical kitchen, it doesn't reach a concentration that's flammable enough, and even if it does catch fire, it wouldn't spread," he said.
Maruya said he is now responding to the latest EPA request for data: examining the fire risk from someone untrained in handling the new refrigerant.
He formed a company, ASTH, with his wife, Theresa, in 1998 and filed patents for HCR188c in 2000, but has kept quiet about his project while awaiting the EPA's decision that could make the product legal in the U.S.
If that occurs, his efforts will have "opened the door to all manufacturers" to switch to energy-efficient, eco-friendly hydrocarbon-based refrigerants, said Davies, who stumbled across Maruya's work after the inventor's EPA application appeared in the Federal Register.