Volkswagen is preparing a revolutionary nw micro car that could put it in the front of the automotive pack in terms of economy and technology. It's scheduled to make its debut in showrooms in 2010, and will compete with a list of micro entries including the Toyota iQ and the Ford Fiesta.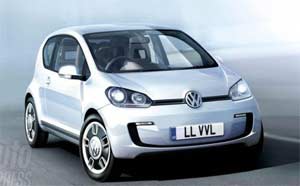 The up! was first shown as a concept at last autumn's Frankfurt Motor Show, and is the smallest, most interesting model VW has ever built. It has a super-compact, rear-engined, rear-wheel-drive powertrain, and promises to be extremely environmentally friendly, with low CO2 emissions.
The up! will measure around 11.5 feet long and 5.2 feet wide, and VW claims it will offer more space inside than any class competitor.
The four-seat cabin design will be taken from the concept and three passenger seats will be able to fold flat or be removed completely. The dashboard will include a digital touchscreen display.
The Up will come with either petrol or diesel engines, and have a capacity of around 600cc. Both units are likely to be two cylinder turbocharged, and VW is targeting CO2 emissions of less than 100g/km and combined fuel economy of 80mpg(US). A 1.2-litre three-cylinder petrol motor is under consideration, too.
The final, production-ready up! is expected to make its world debut at a major motor show early next year. The starting rice is expected to be around $8000