Smith Electric Vehicles has launched the Smith Ampere, a new product aimed at the light van sector. Ampere, which utilises the Ford Transit Connect chassis, and will be joint branded Ford and Smith, was designed and developed by Tanfield in collaboration with Ford.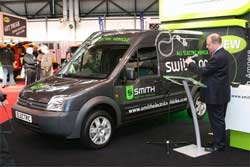 Ampere is a pioneering pure electric vehicle in its class. It is aimed at urban operators using large fleets of light vans, in sectors such as postal and courier, utilities and telecommunications. It has a gross vehicle weight of 2,340kg, with payload capacity of up to 800kg.
Ampere has a range in excess of 100 miles on one battery charge and a top speed of up to 70mph. It is powered by a 50 kilowatt electric motor and an Iron Phosphate lithium-ion battery pack. This is a new drive train and battery and was developed specifically for Ampere.
Ford has already announced that it will launch the Transit Connect in North America and recently unveiled a taxi cab variant. Tanfield will concurrently launch the Ampere for sale in the USA.
The Company today also launches the Faraday mark II, specifically aimed at North America. Ford will supply a range of chassis for Faraday commercial vehicles with a gross vehicle weight of up to 13,000kg. Tanfield will commence manufacture of the first of these new products for North America in the second half of 2008.
Tanfield has reached a broad agreement with Ford to collaborate on future zero emission vehicle projects and is investigating further opportunities in sales, marketing and product development both in Europe and North America.
Darren Kell, Chief Executive of The Tanfield Group Plc, said: "The launch of Ampere brings leading edge zero-emission technology to the light van sector for the first time.
"Our relationship with Ford in North America will provide Smith with high quality chassis that will be recognisable to, and readily accepted by American customers.
"Today's product launches will significantly increase the addressable market for our electric vehicles and are a major step towards our goal of offering a full global range of zero emission commercial vehicles, from light vans to medium duty trucks."
Steve Kimber, Head of Commercial Vehicles for Ford of Britain, said: "As the UK market leader in commercial vehicles, it makes sound business sense for us to fully engage with the market leader in commercial electric vehicles.
"The Transit and Transit Connect are Europe-wide success stories for Ford. Demand for zero emission vehicles is growing exponentially as the battery and drive line technology improve their performance. Ford's collaboration with Tanfield places us in pole position to fully exploit this opportunity.