Mater Dei High School of Evansville, Ind., set a new mileage record at the 2008 Shell Eco-marathon Americas, a challenge to design, build and test fuel-efficient prototype vehicles that travel the farthest distance using the least amount of fuel.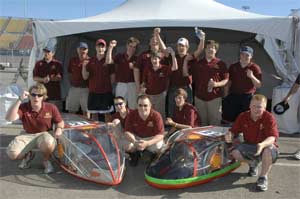 The team's combustion-engine prototype vehicle achieved an astonishing 2,843.4 miles per gallon, equivalent to 1,208.6 kilometers per liter. Despite wind gusts of up to 50 miles per hour and various teams' mechanical issues, competition was steep this year with three teams breaking the 2007 mileage record set by Cal Poly, San Luis Obispo.
"When we first arrived, I wasn't sure a small high school like Mater Dei could compete with all these elite colleges," said Justin Stute, Mater Dei High School team captain. "But our first run broke the record and then our second car did even better. That really motivated both of our teams to go all the way."
Mark Singer, global project manager for the Shell Eco-marathon said, "Students participating in this competition are the brains of the future, stretching the boundaries of fuel efficiency and providing solutions to the global energy challenge. Throughout the two-day competition, teams are constantly making improvements to their vehicles, exchanging ideas and inspiring one another to pay attention to their own energy footprint."
The 2008 Shell Eco-marathon Americas welcomed 32 teams from four high schools and 23 universities from Canada, Mexico and the U.S. The entries include 25 vehicles powered by combustion engines, four by fuel cell/hydrogen technology, one by diesel fuel, one by LPG (liquid petroleum gas) and two by solar power.
Category winners for the 2008 Shell Eco-marathon Americas include:
Grand Prize
With mileage of 2,843.4 mpg (1,208.6 kilometers per liter) the Supermileage Team from Mater Dei High School in Evansville, Ind. won a $10,000 grand prize with their vehicle, 6th Gen.
Combustion Engine
The 6th Gen vehicle from Mater Dei High School in Evansville, Ind., took first place in this category with its 2,843.4 mpg (1,208.6 kilometers per liter) run.
Diesel
Eureka, Calif., based Diesel Corsair team placed first. The College of the Redwoods team achieved 304.5 mpg (129.4 kilometers per liter).
LPG (Liquid Petroleum Gasoline)
The Spartans from Schurr High School in Montebello, Calif., achieved 163.5 mpg (69.5 kilometers per liter) in their Mach 1 prototype vehicle.
Fuel Cell/Hydrogen
Penn State's HFV Team from University Park, Pa., achieved 1,668.3 mpg (709.1 kilometers per liter) in its Blood, Sweat and Gears vehicle.
Solar
The Purdue Solar Racing team from West Lafayette, Ind., took first place with its solar vehicle Pulsar, which achieved 2,861.8 mpg (1,216.4 kilometers per liter).
Mileage wasn't the only challenge
Achieving the best fuel economy in a category isn't the only win. Addressing challenges on and off the track and turning them into successes through teamwork and innovation is also a victory for student teams. Months of planning helped teams stretch the boundaries of fuel efficiency.
The weather conditions created challenges for students and required one team to switch to a heavier driver, which resulted in a vehicle redesign.
"We designed a car for a special driver but when we entered into the track at first, we had to change drivers," explained Eugenio Martin, a student from the Universidad Nacional Autonoma De Mexico (UNAM). "Once the car was modified for the other driver, we had transmission problems. It is the biggest success for us, and it's the greatest feeling because we fixed the transmission problem in one and a half hours."
While the team from Mexico was working through their technical issues, the 17-member team from Universite Laval was on hold for two days waiting for their vehicle to clear U.S. customs. With only one day left to compete, the Canadian team worked well into the night to fully assemble their car and clear inspection within 12 hours. In their first attempt, the team from Quebec moved into fifth place.
"It was a nice outcome that we got the car," Raphael Desiletes-Aube said. "We used the spare time to organize the fastest way to reassemble the vehicle. Once the car got here, it really motivated my team members to push harder so we could get the car out on the track."