A village located at the northern tip of Japan's main island is the testing ground for a 16- foot bank of batteries built by NGK Insulators Ltd., the Japanese industrial-ceramics maker..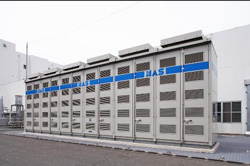 Nagoya-based NGK's sodium-sulfur units, costing about $2.9 million per megawatt, store electricity for sale when demand is greatest and have 4.3 times the capacity of lead-acid devices. They may permit Japan Wind Development Co. to triple to 27 yen per kilowatt-hour what it charges at peak times for power from the turbines in Rokkasho, while the profit surges sixfold to as much as 13 yen, said Nobuyoshi Sato, an analyst at Ichiyoshi Securities Co. in Tokyo.
Batteries may make up 10 percent of NGK's sales in two years, versus 4 percent in the fiscal year ended last month, said Keith Olson at Bowen Capital Management in Hong Kong. NGK, trading in Tokyo at 16 times this year's projected earnings, is about 43 percent cheaper than Vestas Wind Systems A/S of Randers, Denmark, the world's biggest wind-turbine maker.
``Wind farms need to get more peak prices and they need the sodium-sulfur battery system in order to get there,'' said Olson, whose firm oversees $380 million and invests in environmental- technology companies including NGK. Batteries may generate ``as much as 15 percent of operating profit in two to three years' time, and beyond that it can really get big.''
NGK's NAS storage units, named for the periodic-table designations of sodium (Na) and sulfur (S), have the highest density of any commercial battery, meaning they can retain the most power in the least amount of space.
Developed over more than two decades with Tokyo Electric Power Co., Asia's largest power generator, the products were originally sold to save energy produced overnight so it can be used during the day.
``It's extremely difficult to uniformly produce the high- grade ceramics'' used in the devices, said Hironobu Matsunaga, a spokesman for NGK. ``We are the only ones who have been able to successfully make the NAS batteries.''
AEP, based in Columbus, Ohio, and the largest U.S. producer of coal electricity, has purchased 7 megawatts of NGK storage to test for smoothing out existing power production.
``We've begun marketing these in the overseas market, starting with AEP, and we've seen a lot of customer interest,'' Matsunaga said.