Crane Carrier Company is to begin validation and testing of Class 7 & 8 heavy duty hydraulic hybrid and electric hybrid refuse vehicles.
The hybrid trucks are expected to yield 30 percent to 50 percent reductions in fuel use with an accompanying reduction in emissions, to be demonstrated in chassis dynamometer and field testing. The working group members taking part in the hybrid refuse truck pilot project include the Department of Sanitation, City of New York; Solid Waste Management Department, City of Houston; and the City of Chicago.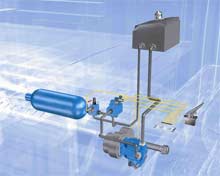 "In the pioneering spirit of New York City, the Department of Sanitation is proud to be an early adopter of heavy-duty hybrid technology. We are committed to working with partners in developing new and innovative technologies that will benefit not only our city's environment, but our country's, as well," said Sanitation Commissioner John J. Doherty.
Crane Carrier Company, working in conjunction with ISE Corporation, proposed a series hybrid electric refuse vehicle (HEV) using a self-contained hybrid drive assembly that can be easily mounted between the frame rails in most truck chassis. It replaces the conventional manual or automatic transmission assembly in the Crane Carrier LET2 chassis. The proposed HEV system uses components that have already been developed by ISE for the transit market in heavy 60 ft. articulated bus applications. The HEV will use nickel-metal hydride (NiMH) batteries or ultra-capacitor packs to store energy recovered from the high number of braking cycles experienced by refuse collection vehicles during their normal operation. The HEV will also employ an onboard GPS and Remote Diagnostic Unit (RDU) providing the capability for real time performance monitoring and remote troubleshooting. The RDU conveys location, vehicle status and offers web-based access.
Crane Carrier and Bosch Rexroth Corporation have proposed using Rexroth's Hydrostatic Regenerative Brake (HRB) parallel hydraulic hybrid system to power their LET2 chassis. The HRB system will be integrated with the Heil refuse body hydraulic system for weight savings and more efficient packaging. The HRB system uses a hydraulic pump/motor, connected to the driveline, to capture kinetic energy during vehicle braking. When braking, the pump/motor acts as a pump, absorbing energy from the driveline and imparting a retarding force on the drive wheels. The absorbed energy pumps hydraulic fluid into a nitrogen-pressurized accumulator. During acceleration the pressurized gas pushes fluid out of the accumulator and the pump/motor now acts as a hydraulic motor, assisting the engine and reducing the fuel required to launch the vehicle.
The national Hybrid Truck Users Forum (HTUF) program is a partnership between CALSTART and the U.S. Army TARDEC's National Automotive Center (NAC). HTUF works to speed the commercialization of hybrid drivelines that could be used in both military and commercial vehicles. The HTUF program currently works with more than 80 fleets representing roughly one million trucks. Truck hybrids are emerging as a U.S.-led technology: there are already more than ten leading U.S. manufacturers of heavy-duty hybrid propulsion systems.
The HTUF Refuse Working Group is building on the success of the HTUF Utility Truck Working Group and its deployment of 24 International Truck/Eaton hybrid electric "bucket" trucks, which has led to the early production of Class 6/7 hybrid trucks by International and the development of similar vehicles by Peterbilt, Kenworth and Freightliner.