Trammell Crow, a houston based developer plans to install 10 wind turbines at the top of its new downtown building to harvest renewable energy.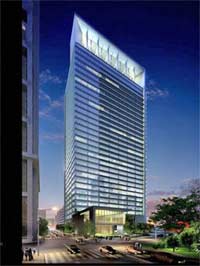 The company said construction will start this week on the 30-story office tower it announced last year.
The 871,000-square-foot project, called Discovery Tower, will have an adjacent parking garage and will be built next to the Discovery Green park.
The project's cost could reach more than $300 million, according to early estimates.
Some of that expense will come from energy-efficient systems designed for the building so it can seek gold certification from the U.S. Green Building Council's Leadership in Energy and Environmental Design program, the industry's benchmark for the design, construction and operation of environmentally friendly buildings.
To achieve a gold rating, a property must earn a certain number of credits for things like air filtration and water-efficient plumbing.
The miniwind farm should also make a huge design statement and help market the building, as more companies look for space where their employees can breathe cleaner air and feel that their bosses care about the environment by leasing energy-efficient digs.
"Sustainability is a big driver going forward," Trammell Crow's Aaron Thielhorn said.
The company, whose partner on the deal is Principal Real Estate Investors, doesn't have a tenant yet for the building. But there's been plenty of interest as downtown's office market has gotten tighter, said Matt Khourie, president of Trammell Crow's southeast operations.
Downtown's vacancy rate was about 9 percent at the end of last year, according to CB Richard Ellis, Trammell Crow's parent company.
The Gensler-designed building, which will have an address of 1501 McKinney, is expected to open around the second quarter of 2010. Gilbane Building Co. is constructing it.
The structure was designed with two stories of retail and restaurant space overlooking a landscaped plaza.
An entrance pavilion will have a porte-cochere and open into a multilevel lobby.
A 10-story parking garage will be developed on the block just north of the tower.
The building will overlook Discovery Green. A new convention center hotel could be built nearby. And a high-rise apartment building is under construction in the area.
Khourie said downtown's center of gravity has been shifting toward the east.
"I believe Discovery Green is going to be a game-changer for downtown Houston," he said.
The building and garage will be connected by a sky bridge, but Khourie wouldn't comment on whether the tower would connect to another downtown building that has access to the tunnel system."