Lithium ion battery maker A123Systems Inc. has cut a new deal with a Norwegian electric car manufacturer that puts its nanophosphate power plants at the heart of a five-seat "crossover" style vehicle.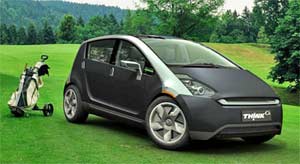 The project, which partners A123Systems with electric car maker Think Global AS, is being funded by GE Energy Financial Services, an investment arm of General Electric Co. based in Stamford, Conn. GE Energy Financial Services recently invested $4 million in Think, and has provided a total of $20 million in funding to A123Sytems since 2006.
The Think concept car, which was unveiled at the International Motor Show in Geneva, Switzerland, is a larger version of the company's traditional electric passenger vehicles. Called the TH!NK Ox, it is modeled after five-seat sport utility vehicles, though lighter and more aerodynamic than its gasoline-powered counterparts, according to officials. The new TH!NK Ox EV will have a 60kW motor, capable of pushing the 3,300lb vehicle to 62mph in roughly 8.5 seconds. Th!nk also claims that "with lithium batteries the Ox will have a range of about 120miles.
Think has made electric cars for 17 years, and boasts 1,200 TH!NK vehicles operating in Norway. The company is also in the process of expanding its production facility to accommodate 10,000 cars per year, a pace officials expect to reach in 2009.
The deal is not A123Systems' first foray into the electric car market. The company last year received a $15 million development contract for next generation hybrid electric vehicle batteries from the U.S. Department of Energy and the U.S. Advanced Battery Consortium (USABC), an organization composed of Chrysler LLC, Ford Motor Co. and General Motors Corp. It has also signed a deal with General Motors to provide batteries for the Saturn Vue Green Line plug-in hybrid development program. .