A Massachusetts company backed by Silicon Valley venture money said Tuesday that it has successfully conducted the first-ever demonstration of manufacturing solar cells by inkjet printing.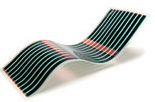 Rick Hess, president and CEO of thin film photovoltaic technology developer Konarka Technologies Inc., called the demonstration a "milestone" for the company and an "essential breakthrough in the field of printed solar cells," in a statement.
Inkjet printing is a commonly used technique for controlled deposition of materials in specific locations on a substrate, primarily used to make flexible electronic circuits. By using the process in the development of solar cells, the need for "clean rooms" is eliminated, and manufacturers can work with a number of different substrates, including plastics, and different colors, according to company officials.
Spun out of the University of Massachusetts Lowell in 2001, Konarka and its power plastics technology has been one of the most well-funded startups in the area. The company has secured a total of $105 million in private financing from a number of investors, including Menlo Park venture firms 3i Group, Draper Fisher Jurvetson and New Enterprise Associates.