Saab is at last getting serious about small cars, revealing a new Astra-size concept, the 9-X BioHybrid, which contains the best clues yet to the shape, size, image and market positioning of the smallest production Saab for at least 25 years, the 9-1, due in the market inside three years.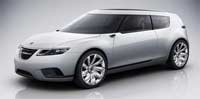 The concept, which clearly foreshadows a production Saab positioned below the existing 9-3, is a three-door, four-seater "breadvan" style hatchback about 4.4-metres long. It's a little longer than today's Vauxhall Astra. Any production version of the Saab would be based on the underpinnings of the next-gen Astra, which is likely to grow slightly as well.
The 9-X BioHybrid is proposed with a 1.4-litre four-cylinder turbo engine, running on E85 (85 percent bio-ethanol) and assisted by a belt-connected drive motor-generator which chimes in under acceleration, and provides regenerative energy under braking to feed the car's lithium-ion battery bank. In production the car could use both a "performance oriented" 1.4-litre BioPower engine (producing as much as 175-180bhp) or a hybrid system whose combined power amounts to as much as 200bhp. Drive would be through a six-speed semi-automatic gearbox.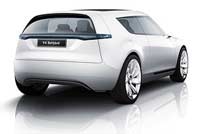 Traditional Saab styling cues; production base in Sweden
The car helps itself generously to Saab's rich and unique mix of styling cues: the circular, backward-sloping "three-hole" grille, the steeply raked wraparound screen, disguised and fairly thin windscreen pillars, and an aerodynamic shape which still looks roomy for its size. Saab insiders claim the 9-X shape is "close to production-capable".
According to Saab MD, Jan Ake Jonsson, the car is a candidate for manufacture at Saab's long-standing Trollhattan plant (which currently makes Saab 9-3s and a handful of compact Cadillacs) at an annual rate of up to 40,000 cars in the body-shape shown. Add a couple of rear doors and you might push it as high as 60,000.
Saab has been selling around 120,000 cars a year — and doing well in the UK — but business has been very tough in the US, against a declining dollar. GM's product supremo Bob Lutz says the company would like production as high as 200,000 a year once its recently launched 9-4X SUV hits production (in America) and when the 9-1 is on stream. But anything more than 150,000 cars "would be a good result."