ZENN Motor Co. has unveiled its plan for electric vehicle domination with Texas-based EEStor and when it plans to come out with a highway-speed electric vehicle using EEStor's "game-changing" energy-storage technology.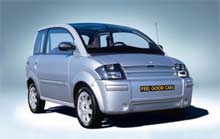 That date will be the fall 2009. "The cityZENN is planned to be a fully certified, highway capable vehicle with top speed of 125 KPH/80 MPH and a range of 400 kilometres/250 miles. Powered by EEStor, the cityZENN will be rechargeable in less than 5 minutes, feature operating costs 1/10th of a typical internal combustion engine vehicle and be 100 per cent emission-free," the company said in a statement following the meeting.
ZENN chief executive Ian Clifford said EEStor's storage technology is in "advanced stages of commercialization" and that commercial product will first be shipped to ZENN in 2008. Though the company said it has not yet tested the technology in a vehicle application yet. The company also plans new 2009 versions of its low-speed ZENN, including a four-passenger car and a utility vehicle.
Talks are also under way with some of the automotive OEMs, though Clifford wouldn't mention names. ZENN has the right to enter joint ventures with OEMs to produce vehicles with its EEStor-powered "ZENNergy drivetrain." The company also plans to develop and market its ZENNergy drive systems for retrofitting and conversion of existing internal combustion vehicles. The initial target, the company said, will be large, high-profile fleets.
Clifford commented that he expects some premium compared to internal-combustion alternatives, but also expects the car to be competitive with comparative gas-guzzlers and well within the range of affordability for prospective car owners.
Dick Weir, founder and CEO of EEStor said that there would be an announcement soon on permittivity of its barium titanite powder, considered a major benchmark that would trigger future payments to EEStor from ZENN.