PetroSun has announced its Rio Hondo, Texas algae farm will commence operations on April 1, 2008 as PetroSun's initial commercial algae-to-biofuels facility. The current algae farm consists of 1,100 acres of saltwater ponds that the Company projects will produce a minimum of 4.4 million gallons of algae oil and 110 million pounds of biomass on an annual basis. The Company has dedicated 20 acres of ponds for a proposed algae derived JP8 jet fuel research and development program.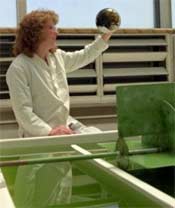 The Rio Hondo algae farm will be expanded in the future to provide the feedstock required by present or proposed company owned or joint ventured biodiesel and ethanol refineries. The Company plans to construct or acquire additional plants in the Gulf Coast region that are reachable via barge up the Mississippi River and its tributaries including the Red River. The previously announced Bridgeport, Alabama refinery will receive algal oil feedstock from this distribution program.
"Our business model has been focused on proving the commercial feasibility of the firms' algae-to-biofuels technology during the past eighteen months," stated Gordon LeBlanc, Jr., CEO of PetroSun. "Whether we have arrived at this point in time by a superior technological approach, sheer luck or a redneck can-do attitude, the fact remains that microalgae can outperform the current feedstocks utilized for conversion to biodiesel and ethanol, yet do not impact the consumable food markets or fresh water resources."