Ascent Solar Technologies has announced that it has been selected by the U.S. Air Force to continue development of a flexible thin-film tandem solar cell with a goal of achieving photovoltaic conversion efficiencies of 20%. A tandem solar cell is a combination of two cells stacked atop one another, with the top and bottom cells gathering energy from separate parts of the solar spectrum.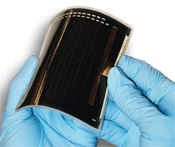 Tandem cells require two solar cells that not only have the desired electrical and optical properties, but that also share compatible manufacturing processes.
The project is expected to be performed under the second phase of an Air Force Small Business Innovative Research contract, and under the auspices of the Office of the Secretary of Defense. Ascent Solar expects the contract value of the project to be approximately $750,000, pending negotiation.
Ascent Solar's Vice President and Chief Technology Officer, Dr. Joseph Armstrong stated: "This Phase II project follows our success in Phase I of the U.S. Air Force program, and builds upon work already performed by our scientists in the areas of wide bandgap and durable bottom cell thin-film photovoltaic technologies.
"Our objective in Phase II is to demonstrate an ability to make tandem solar cells using new material systems we developed during Phase I. We are delighted that the U.S. Air Force has selected Ascent Solar to continue work with these exciting thin-film photovoltaic technologies."