The X PRIZE Foundation and Progressive jointly announced the company's Title Sponsorship of the Progressive Insurance Automotive X PRIZE competition and its funding of the $10 million prize purse.
The newly renamed Progressive Automotive X PRIZE is an international competition designed to inspire a new generation of viable, super fuel-efficient vehicles. The independent and technology-neutral competition is open to teams from around the world that can design, build and bring to market 100 MPGe (miles per gallon energy equivalent) vehicles that people want to buy, and that meet market needs for price, size, capability, safety and performance.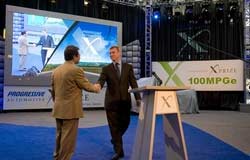 To date, more than 60 teams from nine countries have signed a Letter of Intent to compete for a share of the prize purse and global publicity.
"The Progressive Automotive X PRIZE is a call to action to promote and inspire innovation," said Dr. Peter H. Diamandis, chairman and CEO of the X PRIZE Foundation. "The environmentally friendly cars created as a result of this competition will affect everyone who drives in ways we can't even imagine today. Let the race begin!"
"This competition represents what we're all about in name and spirit—new ideas, competition and always working to do better," added Renwick. "Being a part of this gives us a chance to make a real difference."
At the New York International Auto Show, four teams and their vehicles joined representatives of the Progressive Automotive X PRIZE. New York City Mayor Michael Bloomberg was also on hand in support of the initiative.
"The Progressive Automotive X PRIZE is an excellent example of how the private sector can spur solutions to our most complex challenges," said Mayor Bloomberg. "Here in New York City, we are also stepping up to the plate on energy conservation, by transforming our taxi fleet into hybrids and cutting the City's energy use by 30% over the next ten years. It's all part of PlaNYC, our plan to create a greener, greater New York."
The Mayor added, "Development of a super-efficient car would be a major step forward in the fight against global warming – and it would help us reach our goal of cutting greenhouse gas emissions in New York City by 30% by 2030. To maximize national and international awareness of the X PRIZE, I am pleased to announce that New York will be the starting point for the Progressive Automotive X PRIZE race next year."
The X PRIZE Foundation, best known for the successful $10 million Ansari X PRIZE for private suborbital spaceflight, is an educational nonprofit whose mission is to bring about radical breakthroughs for the benefit of humanity by holding $10 million dollar (or larger) competitions to solve some of the world's greatest challenges.
Several teams in the Progressive Automotive X PRIZE's Letter of Intent program will be on hand to speak with the media throughout the show. A complete list of teams that have already signed a Letter of Intent to compete is included below.
The window for applications will be open until mid 2008, when a thorough qualification process will assess safety, cost, features and business plans to ensure that only production-capable, consumer-friendly cars compete. Those that qualify will race their vehicles in rigorous cross-country stage races in 2009 and 2010 that combine speed, distance, urban driving and overall performance. The winners will be the vehicles that exceed 100 MPGe, meet strict emissions standards and finish in the fastest time. Host cities involved in the competition route are to be announced shortly.
About the Progressive Automotive X PRIZE Competition:
The goal of the Progressive Automotive X PRIZE is to inspire a new generation of viable, super fuel-efficient vehicles that offer more consumer choices. Ten million dollars in prizes will be awarded to the teams that win a stage race for clean, production-capable vehicles that exceed 100 MPGe.
The Progressive Automotive X PRIZE will place a major focus on affordability, safety, and the environment. It is about developing real, production-capable cars that consumers want to buy, not science projects or concept cars. This progress is needed because today's oil consumption is unsustainable and because automotive emissions significantly contribute to global warming and climate change..