Nissan has unveiled its latest energy-saving vehicle at the New York International Auto Show - the Denki Cube.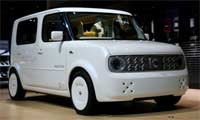 The lithium-ion battery-powered Denki Cube is an electric vehicle concept car modelled after the company's current-generation Nissan Cube.
The primary difference between the current Cube and the concept version, designers indicate, is the fuel source.
The Denki features an electric motor with laminated lithium-ion batteries located under the floor and seats while the current model includes a 1.3-liter inline four cylinder petrol engine.
This new battery technology, Nissan reports, is safer and provides twice the energy of a conventional cylindrical battery.
Nissan Senior Vice President Al Castignetti says the company has been field-testing lithium-ion batteries for more than a decade. Nissan first put an electric vehicle on the road in 1947.