Subaru will begin evaluating its R1e electric vehicle (EV) in the United States this summer in conjunction with the New York Power Authority (NYPA). The plan will be officially announced today at 12:30 PM at the New York International Auto Show.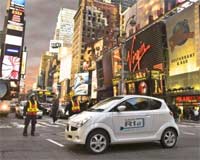 Subaru will provide two Subaru R1e electric cars to NYPA for evaluation. The Subaru R1e will be on display at the New York International Auto Show, from March 21-30 at the Jacob K. Javits Convention Center in New York City.
The Subaru R1e employs state-of-the-art, fast-charge lithium ion battery technology that eliminates typical lithium ion battery issues of charge memory loss, allowing partial charges and quick charges that do not decrease battery life. The two-seat Subaru R1e is capable of driving at speeds up to 65 mph with a range of up to 50 miles, making it an ideal urban commuter. The Subaru R1e can be "quick-charged" to 80 percent capacity in only 15 minutes using quick-charge technology.
A typical charge cost less than $2 dollars. The vehicle can be fully charged overnight (eight hours) while connected to a standard household electrical outlet. The R1e uses an AC permanent magnet synchronized motor producing 40 kW. The new lithium ion batteries are also designed in layers that allow for simple recycling at the end of their 10 year life.