A British firm has agreed to build a giant tidal power scheme - the world's largest - in South Korea, using underwater turbines that experts say could make the proposed $23 billion Severn Barrage obsolete.
The $775 million scheme proposed off the South Korean coast will use power from fast-moving tidal streams, caused by rising and falling tides, to turn a field of 300 60ft-high tidal turbines on the sea floor.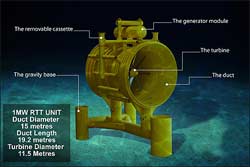 The turbines are dropped into deep water, so they are not a danger to ships, and the ecological impacts are less than tidal barrages which take away mudflats important to birds and impede the passage of migratory fish such as salmon, shad and eels.
The joint venture between Lunar Energy, a British tidal power company, and Korean Midland Power Company, in the Wando Hoenggan waterway is expected to power 200,000 homes by 2015.
Tests on a 1 megawatt pilot turbine by the Korean authorities will start early next year to assess the environmental impacts before permission is given for the full scheme. The turbines designed by Lunar Energy will be built by Hyundai Heavy Industries and Rotech Engineering, the other partners in the scheme.
Lunar Energy is already working with the energy company E.ON on a proposal for an eight turbine tidal power scheme off the Welsh coast.
The design of turbine chosen by the company is based on existing technology used in the oil industry. It has a 2,500 ton frame into which a "cassette" containing a pump, generator, motor and electronics are dropped.

William Law, chairman of Lunar Energy, said that there was the potential around the British coast for tidal stream turbines to generate up to 20 per cent of Britain's energy needs.
This compares with the proposed £15 billion Severn estuary barrage – which it is estimated could produce five per cent of Britain's electricity after a 15-year construction period.
Mr Law added: "The ideal place is the Pentland Firth in Scotland where there is a huge resource of at least 10,000 megawatts – equivalent three large coal-fired power stations or enough to power a million homes – in deep water.
"There is also a lot of potential in the Irish Channel, the George Channel, off the Isle of Wight and off the Channel Islands."