Sharp Solar Energy Solutions Group designed and provided the solar power systems for Clarum Homes' new Hansen Lane Estates in Danville, California. These new Clarum "Enviro-Homes" feature the aesthetically-advanced Sharp OnEnergyTM solar electric system as a standard feature, enabling homeowners to generate clean, renewable electricity to meet their energy needs.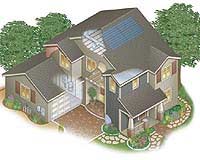 In addition to the Sharp solar arrays, the Clarum homes incorporate many energy efficient techniques and technologies - making Hansen Lane Estates the first Zero Energy Homes (ZEH) community and the first enrolled in the LEED for Homes program in Contra Costa County.
The solar-powered homes have been selling well - several have been purchased since the homes were put on the market earlier this year. The Sharp OnEnergy solar systems, combined with energy-saving features such as structural insulated panel walls systems, super high performing insulation, Low-E windows, Energy Star appliances, and electric car plug-ins, make these new Clarum residences some of the most highly energy-efficient homes in the country, enabling homeowners to reduce their utility bills significantly.
"Continuing our mission of sustainable design and green building, Clarum has once again selected Sharp's solar power systems for its latest 'Enviro-Home' community," said John Suppes, president of Clarum Homes and Byldan Corporation. "Sharp's solar power system adds tremendous value to the homes we build. By providing homeowners with attractive solar power systems that generate electricity right on their rooftops, and incorporating other energy efficiency features, we're enabling them to save 50 percent or more on their utility bills."
Clarum is deploying Sharp's new OnEnergy solar electric system, which is designed to make system installation simpler, more cost-effective and aesthetically pleasing. It features all the necessary components for emissions- and maintenance-free operation, including a meter that allows homeowners to monitor system performance.
The OnEnergy system eliminates the need for separate module-to-module grounding throughout the entire array, and saves on installation time as well as material costs. The system's anodized aluminum frames and skirts assure the system is a long-lasting and attractive array on a residential rooftop.
Additionally, the OnEnergy system's internet-based CAD (computer aided design) software enables installers to design, customize, confirm and then simply click to order their solar power system. Any excess electricity generated goes back into the utility grid - thereby spinning the meter backward, and accruing credit on the homeowner's utility bill.
"By building homes that include solar electric power as a standard feature, Clarum continues to be a trailblazer among homebuilders," said Ron Kenedi, vice president of Sharp's Solar Energy Solutions Group. "We're delighted that these homes are in such demand by discerning homebuyers who are concerned about their energy usage, their community, and the environment."