This is the ZAP Alias; a high performance electric vehicle capable of carrying two people and reaching 156mph.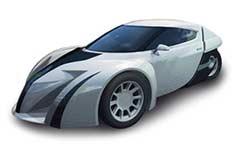 It's being developed by the Joint Venture group – a company set up for the Alias project by American electric car maker, ZAP, and China Youngman Automotive Group.
The idea is to produce a vehicle powered entirely by electricity, which has a range of over 150 miles, can hit 60mph in 5.7sec and is a suitable everyday vehicle for motorway and town use.
Performance comes from two electric motors – one powering each front wheel – which produce a claimed overall output of 322bhp, and the handling comes courtesy of Lotus.
Zap has been developing electric cars with Lotus Engineering for a number of years, and the Alias will undoubtedly benefit from the expertise of Norfolk's finest.
As if that weren't challenge enough, the Alias is also intended for production as soon as 2009.
Chairman of the Joint Venture Group, Albert Lam, claims that the "performance goals are achievable because the pace of new technology is accelerating."
Safety is aided by an integrated roll bar, and predicted prices are only $30,000.