Renewable energy development firm Vulcan Power Company has announced its G3 Power Plan, a preliminary plan for green grid transmission upgrades to deliver one gigawatt of clean geothermal power to the US cities of Los Angeles and Las Vegas from natural steam zones located in northwest Nevada.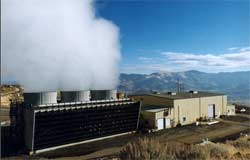 Vulcan Power has said that scientists at the Great Basin Center for Geothermal Energy at the University of Nevada, Reno, estimate that 2,500MW of geothermal natural steam exists in northern Nevada.
There has already been about 240MW of geothermal power online in Nevada for 15 years, which is evenly split between the Nevada and California utility buyers, Sierra Pacific Resources and Southern California Edison Company.
Vulcan Power said that new green grid upgrades are needed for Nevada steamfields to grow up to 2,500MW, supplying one gigawatt each to California and Nevada.
Seven companies with advanced sites have been selected to supply progressive Nevada and California utilities with about 500MW of geothermal capacity, with over half utilizing these grid upgrades.