Today, Green Star Products, Inc. announced that it has acquired a license to utilize a breakthrough processing technology to convert algae biomass to feedstock oil and cellulose sugars for the production of biodiesel and cellulosic ethanol respectively.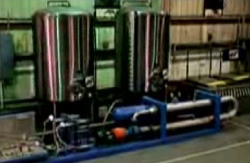 The new process uses an efficient low-cost method to extract the oil and cellulose sugars from oil-bearing microalgae that eliminates the need to mechanically dry and press-extract the algae oil using traditional methods. The sugars from carbohydrate-rich cellulose and hemicellulose can be used to make a variety of products including ethanol and other high demand chemical products. The oil can be made into biodiesel and other products.
The removal of oil from the microscopic algae has been a stumbling block for the commercial production of fuel from algae for many years.